Date added: 18 December 2007
New VIP On-Roof rail service for Swindon?
Daily Telegraph reports on next year's news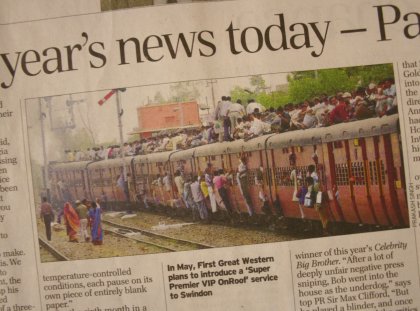 the possible state of things to come for Swindon
commuters next year, according to the Daily Telegraph
The Daily Telegraph on Saturday featured a list of 'Next Year's News Today – Part 1', with Swindon's often overcrowded train route to London selected as the main 'news' for May 2008.

It read:
"First Great Western announces the introduction of its new "Super Premier VIP OnRoof" service to Swindon.
To ease 'standing room only' complaints, we're delighted to welcome customers to the roofs of all our carriages. Please be aware that only OnRoof Special FreshAir Saver tickets are valid for this service.
Customers without valid tickets to sit on the roof will be liable for the full fare."
Swindon commuters, you have been warned!
Mel Turner-Wright