Date added: 20 December 2007
Sports round-up 20 December 07
Football - Swindon Town FC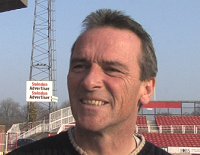 Despite the frostiness surrounding the County Ground caretaker manager Dave Byrne was in optimistic mood in his
weekly press conference today.

Although the team are currently in a bad run of form, he feels that Christmas has come early for himself and Ady Williams as they welcome back five players back from injury and suspension.

"With players like Jerel Ifil and Lee Peacock returning we have the spine of our team back," said Bryne.

"It's nice to finally have selection problems for the right reasons now."
Today's training was severely affected by the weather, with the pitches at Wanborough totally frozen.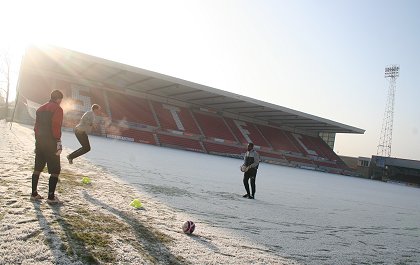 Town's goalkeepers in training at the County Ground today

"The players will be in the gym most of the day to maintain their fitness levels, but it's frustrating that we can't work on tactics and formations," said the boss.

However, the boss was keen to stress that the players would be ready for Saturday and he expects to see a response following the disappointing loss to Brighton.
With the take-over of the club set to be complete in the next 24 hours, Byrne feels that things are looking up for the club.
Football - Swindon Supermarine
A busy festive period could provide Supermarine with the opportunity to secure vital wins against lower placed teams.

With a trip to Hitchin this Saturday Marine will be desperate to secure a vital win over a team that sit just two places of the bottom of the league.

Boxing Day sees local rivals Cirencester visit Hunts Copse – again a must win game against a team that has only scored 12 goals all season.

Two wins in the next two fixtures cold see Marine rise into the top half of the table, something a few months ago seemed highly unlikely.
Ice Hockey – Npower Wildcats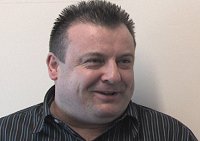 Wildcats' general manager
Despite an impressive 4-1 victory over Wightlink on Saturday in the Premier League Cup, they were unable to follow it up as they took on Guildford in the Knock-Out Cup - eventually loosing 3-1.

Despite dominating for large periods of the game the team were unable to overcome the loss of star forward Joel Petkoff to suspension and also three other top players who were on International Duty with the Great Britain team.

With no game until the 29th December the players and management will take a well earned break – and charge their batteries for the second half of the season.

General Manager Steve Nell is keen to encourage fans to come and show their support on the 29th as they face the Bracknell Bees.

"There will be a great atmosphere and it should be a good game, so come down and cheer the guys on," he told us.
The deal is done
Andrew Fitton has finally taken control of Swindon Town FC...

21 December 2007