Date added: 23 December 2007
Off to a bang
Serious explosion rocks Toothill
Christmas got off to a bang in Toothill this morning, when a serious explosion almost completely destroyed a mid-terrace property containing two flats.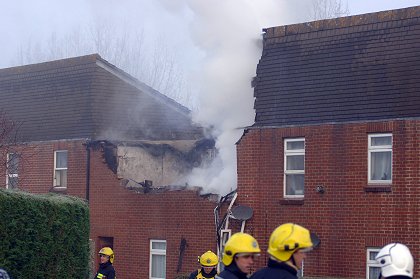 All the emergency services attended the incident, which took place in Stamford Close at approximately 7:00am.
The only casualty reported was a middle-aged man who required treatment for burns at the Great Western Hospital.
The precise cause of the blast is unknown and a full investigation is underway.
"I just heard a tremendous bang and ran out to find out what the hell had happened," said one local resident, who was evacuated for safety reasons.
"It looks like the whole roof has been blown off. I hope there was no one inside."
Those who live immediately adjacent to the damaged property have been told they cannot return to their homes until the new year at the earliest. All have been offered temporary accommodation by Swindon Borough Council until then.
Story update: 24 December 2007 5.43pm

A 44-year old man has been arrested by Police on suspicion of arson following the Toothill blast.

Toothill explosion - 23/12/2007