Date added: 08 November 2007
Mock crash drives home consequences of poor driving
The dramatic consequences of reckless driving were demonstrated at the offices of Swindon car leasing giant Arval today.

The event was organised by in support road safety week, which takes place this week, and involved a mock accident attended by the emergency services.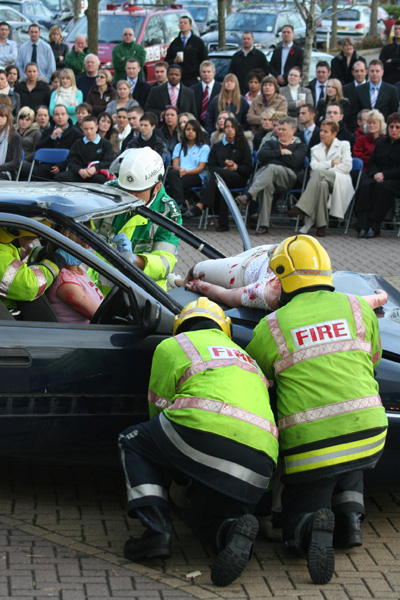 the emergency services attend the 'crash' scene at the

It was witnessed by a invited group of 350 Arval staff and local schoolchildren, with drama students from New College playing the part of those injured in the "real-life" crash.

The Fire Brigade, Paramedics and Police all attended the incident scene as if it has just happened, with a live running commentary describing events as they unfolded.

The "crash" involved a car with 3 passengers, travelling at "just" 5 mph above the speed limit at 35mph, in an urban area during the daytime, who collide with a cyclist and then a stationary car when the driver is distracted on his hand-held mobile phone.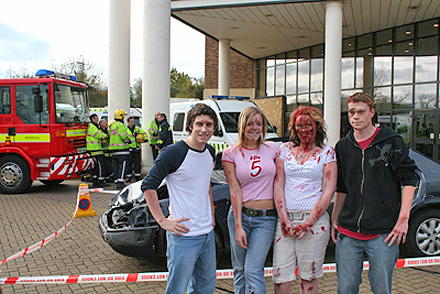 Students from New College (l-r) Nico Recchioni (driver),
Katie Bagwell (passenger), Laura Graham (rear passenger),

The rear passenger, who was not wearing a seatbelt, is thrown through the windscreen.

"We wanted to highlight the seriousness involved in accidents at what is perceived to be low speed," said organiser Tracy Young, Arval fleet manager, "and the ultimate effect of not wearing a seatbelt during a collision."

"It's only through reconstructions like this that we can really get the message across."
"It was scary just being part of it," said student Laura Graham, who played the rear-seat passenger thrown through the windscreen.
Mel Turner-Wright

Arval Emergency 2007 - 08/11/2007
Fatal Crash
Accident claims life of teenager driver on Wharf Road in Wroughton - UPDATED...

02 November 2009

A levels results
Agony and ecstasy as Swindon students get their grades...

20 August 2009

Flying high!
Arval employee to represent UK at World Air Games...

21 August 2008

Top marks!
New College receives national praise...

11 January 2008