Date added: 20 November 2007
Swindon's Supercar Showdown
Swindon setting for Clarkson's new DVD
Jeremy Clarkson has just become yet another celebrity to show his support for the Science Museum's Inspired project, which recently dropped out of the running in the Lottery-funded competition, 'People's £50 Million'.

It was a devastating blow to the Inspired project organisers, and indeed the people of Swindon, who were aiming to build Europe's largest museum.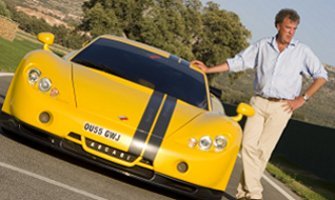 Burning rubber in Swindon:

But Clarkson's latest venture, the 'Supercar Showdown' DVD promises to put the Museum back in to the forefront of the public's minds, as Swindon's prominent appearance makes it the star of the show.

On the case of the new DVD, Clarkson says: "For my all new DVD I've travelled the Planet – from Spain via Strasbourg to Swindon – for the Supercar Showdown to beat them all."

It's expected to top the charts this Christmas, so we know there will be lots of car enthusiasts across the town who have this at the top of their Christmas list.
Mel Turner-Wright
It's The Eboladome!
And it's in Swindon! New Grand Tour test track gets the Clarkson treatment...

21 November 2016

The Stig
Swindon's connection to Top Gear's mystery man - watch YOU TUBE clip...