Date added: 21 November 2007
Swindon canal plans: latest
Swindon's canal has been a forgotten part of history for many Swindonians, but with the Wilts and Berks Canal Trust expected to announce the latest developments in their restoration campaign tomorrow, the sight of a canal flowing through the town centre could be a vision of the future.

The people behind the planned restoration will be joining the Swindon Civic Trust, as well as members of the public, in an event being held at the National Trust's new central office in Kemble Drive at 7.45pm tomorrow evening, to announce their plans.


the canal at Kingshill (above) as it is today, and
(below)
children stand next to the old Golden Lion
Bridge
over
the canal in 1904
(the Jubilee clock now stands on
this site,
which is part of Canal Walk in Swindon town centre)

The canal played a huge part in Swindon 100 years ago, flowing through Kingshill, across Milton Road and more famously, down Canal Walk in the town centre.

And although the majority of it was filled in, parts of the 52-mile route from Abingdon to Melksham are still in place, and there are extensive plans to restore and connect the entire route.

Ken Oliver, Chief Executive of the Canal Trust, believes that the proposed route could be back in place by 2025, bringing an essential part of Swindon's history back to the people who have only ever seen the full canal in history books.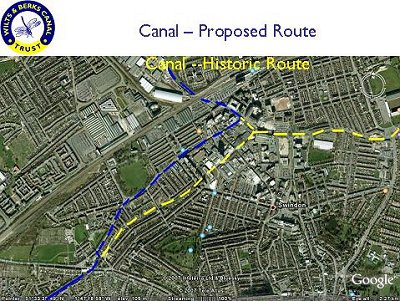 how the canal will flow through Swindon Town Centre,
if plans are approved

He told us: "This new scheme is not a secret. We estimate it will cost £50m, which sounds a lot, but when you think that is only about 3% of the cost of the regeneration, it doesn't seem a lot at all.

"I think it could also bring about 10% of benefit to the town, which would mean it is a great investment." The only problem with the restoration, particularly in Swindon, is that the urbanisation has seen the line being built on all across the town.

But after 10 years of focused planning, and the full support of Council Leader, Rod Bluh, a slightly adapted route could be the answer.

Plans are being put to the full Council in January 2008, and could become reality if they gain the full support of Council members.
Mel Turner-Wright