Date added: 23 November 2007
Wild time for town centre!
Christmas shopping in Swindon will never be the same again, with the opening of our very own outdoor ice rink this morning.

Albeit temporary, it certainly caused a stir amongst shoppers, as the Swindon npower Wildcats took to the ice to show them how it's done.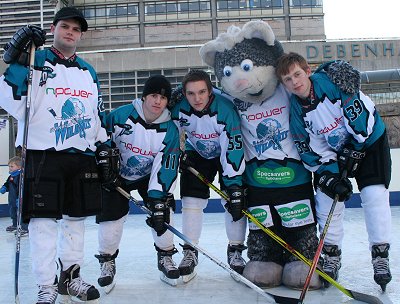 Swindon npower Wildcats:


showing shoppers how it's done

Wildcats' General Manager, Steve Nell, said: "The Wildcats got involved through inSwindon, and I think it's a great idea for the town.

"It's a bit colder than the boys are used to though!"

Two-year-old Dillan Elliott, from Calne, was all smiles and giggles as Wildcats mascot, Willie, took him by the hand and led him for his first ever skating session.

His mum, Nichola, said: "We came to meet my sister for a bit of Christmas shopping, but Dillan couldn't resist having a go!

"I think it's a great idea. Kids get so bored when they're dragged around the shops, but now they can have a bit of fun too."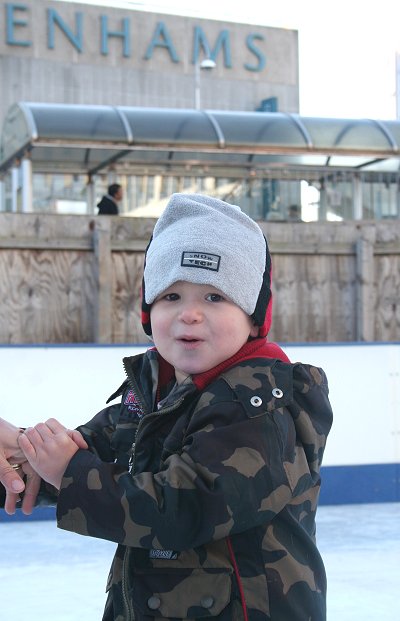 First-timer:


two-year-old Dillan Elliott enjoying
his
first time on the ice

Another keen skater was seven year-old Oliver Gill from Highworth.
The die-hard Wildcats fan was walking past with his nan when he spotted his idols on the ice rink.

Ann Pitt, also from Highworth, said: "Oliver is their biggest fan. He goes every weekend to watch them, and he was overwhelmed when he saw them skating here!"

Performing some impressive tricks with the puck, Wildcats Wheaton, Farn, Davies, Long and Moore were more than happy to entertain the crowds, as they lapped up the attention.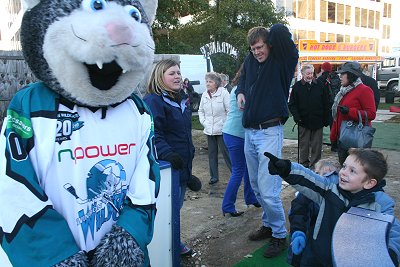 Star of the show:


Wildcats' mascot Willie
entertaining children at the temporary ice rink

Shane Moore, who dressed as the team's mascot, Willie, for the occasion, said: "Someone had to do it! It's a cool idea, but a lot colder than I was expecting!"

So next time you're trawling around the shops and need to inject some Christmas cheer in to your day, why not take a trip to the old Post Office site on Fleming Way where adults and children alike can have a skate - or even enjoy the surrounding fun-fair!
Mel Turner-Wright

Ice Skating in Swindon - 23/11/2007
Get your skates on!
Swindon Town centre is all set to be transformed in a winter wonderland...

06 November 2007

Sparkling Swindon
Our gallery of the fireworks going off across the town...

03 November 2007