Date added: 26 November 2007
Wroughton Junior School becomes Climate Cop Academy
Ben Fogle drops in to support climate change campaign
Children at Wroughton Junior School graduated from the npower Climate Cop Academy today, in a ceremony attended by TV presenter and environment supporter Ben Fogle.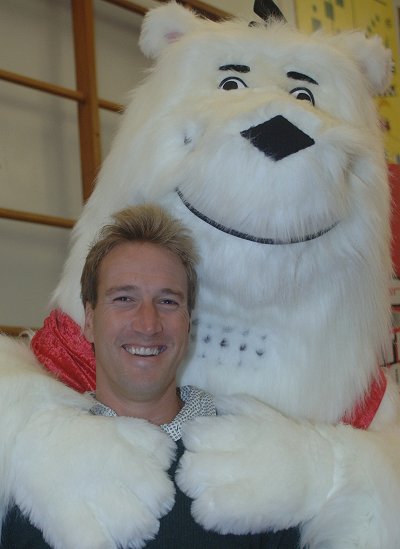 Ben Fogle with npower's Greener Schools mascot K'eyush
Energy company npower have launched the initiative to make preserving and generating energy much more simpler for children to understand.
Nine year-old 'Climate Cop' Megan, was particularly excited about the event, and summed it up with one simple statement: "We're helping to save the world."
After playing all sorts of games – from rowing with Ben, to retaining body heat in front of an infra-red camera – the 'graduates' were presented with a certificate and climate preservation guide, by representatives from npower.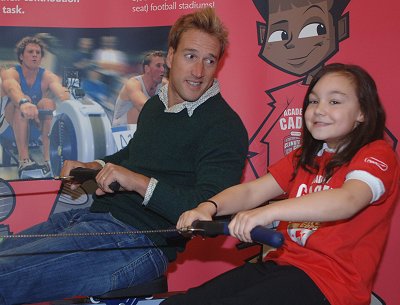 Ben Fogle showing students
how to generate
energy
without damaging the environment
Npower's characters, Skye, Will and Oscar, joined their mascot, polar bear K'eyush, to deliver simple messages about energy saving.
And with things like taking televisions off standby, and only boiling the amount of water you need, the children were inspired to continue the campaign at home.
The Mayor and Mayoress of Swindon, and Anne Snelgrove MP, were also in attendance, at this event which is hoped to be an incentive for other schools to follow suit.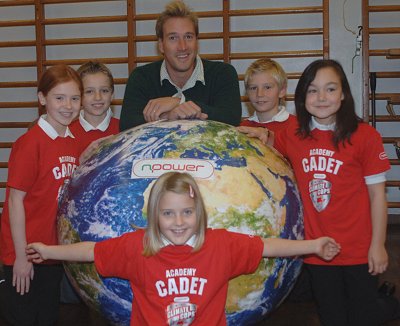 World in their hands:


pupils from Wroughton Junior School learning more
about the world's energy with TV presenter Ben Fogle
Wroughton Juniors were involved in the initiative through the Association of Swindon's Primary Headteachers, for which their headteacher, Stephen Menham, is Chairperson.
He told us: "It's great for the school, and the children have had a great time learning new ways to save energy.
It's all about the things they can do at home, and hopefully parents will be inspired by the enthusiasm our pupils have shown today."
Mel Turner-Wright
Arise, Sir David!
Swindon's record-breaking explorer Knighted in the New Year's Honours list.....

31 December 2016