Date added: 28 November 2007
Learning in your pocket
Swindon students all set for

iPod lessons
Students from local colleges could soon be having lessons via their iPods, after an initiative was launched officially today at New College.

Staff from the college were joined by representatives from Swindon, Cirencester and Wiltshire Colleges, who will be working together to drive this project forward.

Selected students across the four colleges will be loaned iPods – which means that New College's Science and Languages, Wiltshire College's Health and Social Care, Swindon College's Construction, and Cirencester's Sport students will all be offered the chance to use one of 1,000 iPods.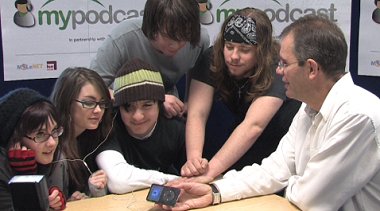 Driving the new initiative:
David Baugh shows students how
iPod learning
could help their studies

David Baugh, ICT Advisor and Apple Distinguished Educator, who presented his ideas to the group of lecturers, spent the morning showcasing the project, and showing lecturers how to create podcasts.

New College Principal, Graham Taylor, said: "It's great that we've got David training us today, because we need to ensure all staff are involved and can understand the technology in order to implement it.

"It's all about using Push Technology to get it out there in an arena that the students are used to, and are passionate about."

Stephanie Warren, e-Learning Manager at New College, said: "About 80-90% of our students have iPods so it's really important that we develop this learning programme and get the students involved.

"We need to keep the technology simple so that lecturers feel comfortable using it, and students can easily access and utilise the podcasts."

Julian Prior, Lead Research Practitioner at the college, will be responsible for overseeing the initiative and ensuring the expansion, whilst liaising with members of the other colleges.

The success of this initiative relies on how receptive the students are, and there's certainly no denying that the techno-savvy younger generation will be enthusiastic about making the most of this initiative.

But the biggest lesson to be learned today is that this isn't an excuse to skip lectures, as Principal Graham Taylor said: "The message we need to get across is that this should be used to enhance education rather than replace it."

Times have certainly changed, and with Christmas fast approaching, there could be an educational benefit to the snazzy iPod on your Christmas wish list.
Mel Turner-Wright
A levels results
Agony and ecstasy as Swindon students get their grades...

20 August 2009

Top marks!
New College receives national praise...

11 January 2008

iPod banking
Nationwide Building Society introduces a revolutionary new service...

13 December 2007