Date added: 29 November 2007
Two Stars for Adult Social Care
Swindon Borough Council's Adult Social Care department are celebrating a two star Government rating, following an independent report published today.

Despite facing a tough time, they have been described by the Commission for Social Care as "good" with "promising" potential for future development.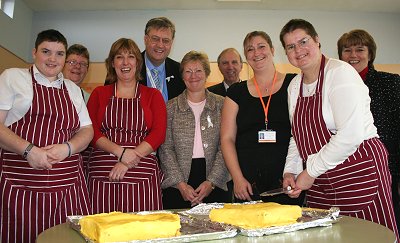 Carers and users of the Adult
Social
Care
centre in Upham Road

Coun. David Rennard, Cabinet Member for Health, Housing and Social Care said: "Many of those people in Swindon with learning disabilities are actively involved with assessing the services they receive and are keen to help the Council deliver further improvements.

"It is really rewarding to be celebrating the Two Star rating with them and I thank them for their contribution to the inspection and their commitment to the services provided by Adult Social Care."

In celebration of the occasion, a star-shaped cake was baked by users the council-run Upham Road Adult Training Centre.

Cake-baking is a popular activity at the centre, with social enterprise UR Cakes helping people with learning difficulties to learn new skills and interact with the community, with fortnightly cake sales held at the temporary Central Library on Princes Street.

Dee Maciver, and Instructor at the Centre, said: "The cakes are very popular – we sell more than 100 each time and our service users feel proud of what they have achieved."
Mel Turner-Wright