Date added: 30 November 2007
Five years on, still going strong
Children's Fund reaches milestone
Swindon Children's Fund is celebrating it's 5th anniversary today, with a range of activities taking place at the University of Bath's Oakfield campus, to commend those involved in the organisation's massive achievements.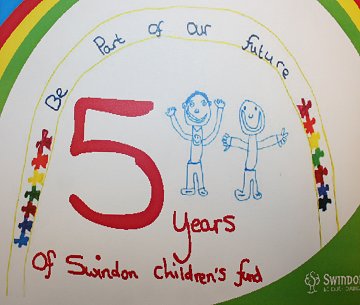 Swindon Children's Fund hope to continue
their
positive work within the community

A conference was held to start the day, with Esta Orchard, Director of Participation for the England Office of the Children's Commission, acting as a key speaker.

She was also joined by three young people from the Swindon Academy who chaired a 'Be Part of Our Future' conference, to highlight the ways in which people from the town are able to help.

The Fund is one of only 149 in the country, which follow the simple principles of prevention, partnership and participation – with the aim of identifying children and young people who may have social problems, in order to ensure an ongoing support to help them achieve their potential.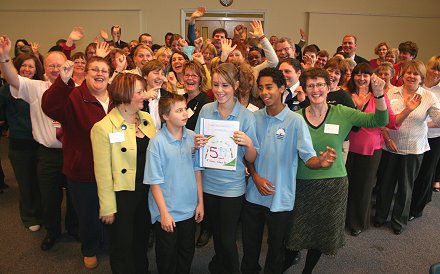 Celebrating 5 years of success:
(Front, from left): Joy Kennard, Service Manager of Strategy
and
Commissioning, and Claire Smith,
Participation Manager, both of Swindon
Borough
Council, with three members of the Swindon Academy
(Background):
people from the town who have been involved

Representatives from the Swindon Children's Fund recently attended the Children and Young People Now Services Awards 2007, held last week in London, where the group was short-listed for the 'Integrated Working Award'.

Cllr. Gary Perkins, Cabinet Member for Children Services at Swindon Borough Council, said: "This event is a chance to say thank you to all those volunteers, workers and young people involved and celebrate the positive and innovative work being undertaken by all the agencies."

Swindon agencies involved in the fund are: Child and Adolescent Mental Health Services (CAMHS), Swindon Borough Council's Play Service, Youth Offending Team (YOT), Children's Information Service (CIS), NSPCC Family Centre, Welcome Family Centre and the Family Welfare Association.
Mel Turner-Wright