Date added: 12 August 2014
Ian Fleming: Died 50 Years Ago This Week
Swindon's connection to the legendary James Bond creator - LIVED HERE, BURIED HERE
Here lies the grave of one of Swindon's most famous residents

An author who died 50 years ago this week just as the world was recognising his writing brilliance - and whose name is still blazoned over billboards, magazines and adverts promoting James Bond films.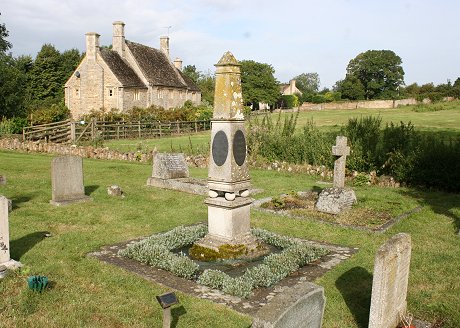 Modest memorial:
Ian Fleming's final resting place in Sevenhampton
(pics taken on the 50th anniversary of his death, 12 August 2014)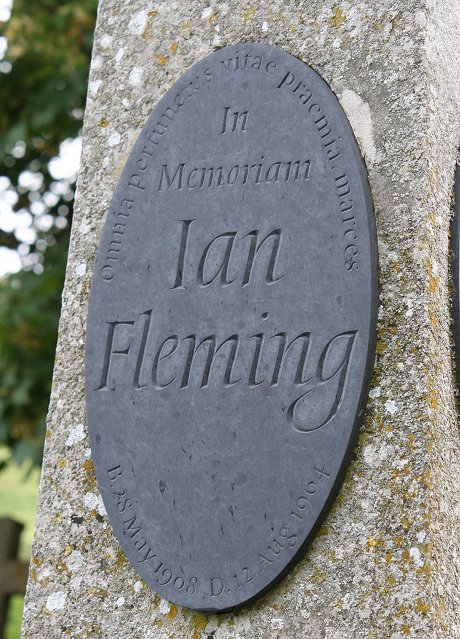 Ian Fleming, the creator of James Bond and the man who penned every one of 007's famous adventures, is buried in the parish church of St. James's, Sevenhampton, near Highworth. The obelisk on his gravestone marks the most noticeable - yet still unassuming - monument in the churchyard.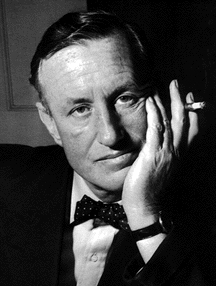 Semi-autobiographical:
Ian Fleming used his own
espionage experiences during
war world two as the inspiration
for James Bond

He was buried there on 15 August 1964 - three days after his death, and just a month before his spy creation hit the cinema screens for the third time in the blockbuster 'Goldfinger' starring Sean Connery, the film that really made James Bond a worldwide phenomenon.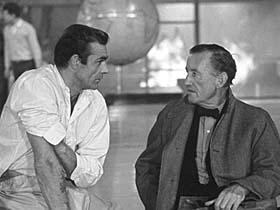 Bond meets his maker:
Sean Connery and Ian Fleming
on the set of Dr. No

His final resting place is just within sight of Warneford Place, the grand country house that Fleming had bought in 1959 with his wife Ann, and where he spent the majority of his time during his later years.

On finally moving in permanently in 1963 (Fleming had the original 16th century house demolished and replaced with a more modern residence which took 4 years to build and furnish), the author had planned to settle down and involve himself in the local community, according to his biographer Andrew Lycett.

But growing ill health following a heart attack in 1961 restricted this committment to helping the local Conservative parliamentary candidate, Charles Morrison, with a number of speeches and supporting a Swindon boys' club with a £60 donation and a promise to give a talk (which never materialised).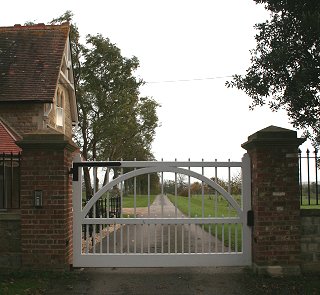 Typical Bond-style grandeur:
the entrance to Warneford Place and the house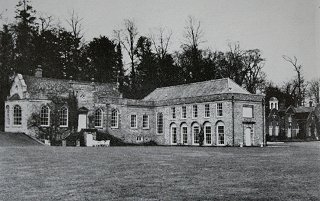 A keen golfer, Fleming preferred to travel to his favourite club at Sandwich in Kent to play, (the Wrag Barn course, which now overlooks Sevenhampton, only opened in 1990) and it was there that he collapsed and eventually died in a Canterbury hospital on 12 August 1964, his only son Caspar's 12th birthday. He was 56.

At the time of his death, Fleming left three short stories still unfinished - 'The Living Daylights' and 'Octopussy' among them - works that would later be turned into two of 007's largest-grossing movies starring Roger Moore and Timothy Dalton.

Indeed, during Fleming's time living near Swindon, he enjoyed some of the most productive - and certainly most lucrative - years of his life having sold the film rights of his books to Eon Productions and selling millions of copies of his novels as a consequence.
He also wrote the children's novel Chitty Chitty Bang Bang (later turned into a hugely popular movie by Bond producer Harry Saltzman) based on the bedtime stories he told his young son Caspar while here convalescing from a second heart attack.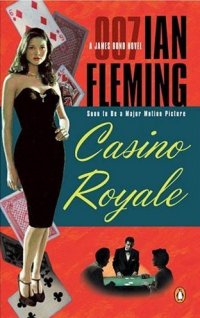 adventure:
Casino Royale was Fleming's
first Bond novel, which he
wrote in 1953

The year after his death, the combined sales of his 12 James Bond books topped 27 million worldwide, making him one of the biggest-selling authors of all time.

The Fleming grave at St. James's also contains the remains of his wife, Ann, who passed away in 1981 and his son, Caspar, who tragically died of a drug overdose in 1975.
Enscribed on his tomb stone is the latin
'Omnia perfunctus vitae praemia marces'
, which roughly translated means 'You are rotting away now after having had a great life'.

Warneford Place is now owned by formula one empresario Paddy McNally and is maintained as a strictly private estate. Bond aficionados who passby may notice, however, the odd 007 connection here and there, such as the curiously named farm buildings nearby.
Fleming name still going strong
Those with a keen eye will notice Ian Fleming's name
still appears on all the latest 007 film posters, as it was on the first, Dr No in 1962. His books continue to sell in their thousands.
And as part of the 50th anniversary celebrations of that first film adaptation, SKY Atlantic produced a series starring Dominic Cooper as Ian Fleming that portrayed his early life as a bachelor naval officer & spy, see as the major influence for him to start writing the Bond novels.
Ian Fleming's older brother, Peter Fleming, was the man commissioned by Winston Churchill to establish the Auxiliary Units, Britain's "secret army" of civilian volunteers who would fight on behind enemy lines if Britain was invaded.
Their secret base? Coleshill House, just 2 miles from Warneford Place.

Bond in Swindon - more connections...


You may be surprised to know that Ian Fleming isn't the only 007 link with Swindon. Our town has been shaken and stirred by the sauve and sophisticated world of James Bond more than once. Swindon even has the only pub in the world called The Goldfinger!
Just click on the link below to find out more.
Farewell to Jaws
ARCHIVE: Pictures from Bond star Richard Kiel's visits to Swindon - GALLERY

11 September 2014