Date added: 30 October 2007
Royal recognition for the magnificent seven
Pupils across North Swindon were on their best behaviour today as the Duke of Gloucester dropped in to officially open seven new and developed schools across the area.
In a ceremony held at the high-tech Nova Hreod Secondary, the Duke unveiled plaques for all seven of the schools. Teachers, pupils and governors from Nova Hreod Secondary, Isambard Community School, Orchid Vale, Moredon, and Redoaks Primary schools, Brimble Hill and Uplands Schools all came together as part of the long-awaited celebration.
PROUD DAY:
HRH The Duke of Gloucester opening Swindon's
seven new schools in North Swindon

Swindon Mayor, Cllr. Michael Barnes said: "We feel very honoured and very privileged. It's great that the Royal Highness could come along and join us. It took a lot of time and hard work, and the students, parents and staff have all been involved.

"I'm proud of the students and I'm proud of the staff."
The state-of-the-art learning centres were constructed as part of an agreement between ESSL (Education Support Swindon Ltd) and John Laing Integrated Services Ltd, in an operational contract lasting 25 years.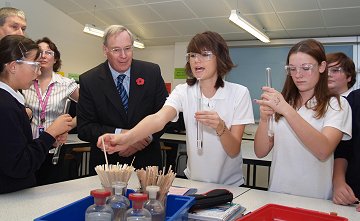 In the lab:


the Duke watches pupils experimenting in one
of Nova Hreod school's new science classes
© Swindon Link


Gavin Jones, Chief Executive of Swindon Council believes the new schools will play a great part in the future success of the town. He said: "Swindon has great plans for growth. People and their families will come here largely for education."

MP for North Swindon, Michael Wills, can also see the long-term benefits of this staggering investment in local education. Impressed by the Duke's visit, he told us: "It just shows what a special day it is, and this is going to be a huge asset to the town for years to come."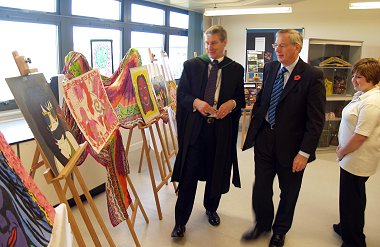 Artistic touch:
the Duke praising students' work
© Swindon Link
There wasn't a moment to spare for the Duke, with an action-packed morning of visits to the science laboratory, learning resource centre, and the arts wing where he watched some of the students dancing in their new studio. He also watched a video produced by pupils of Nova Hreod over a two-year period in preparation for today's eagerly-awaited ceremonious opening.
It's this impressive standard of facilities that has undoubtedly given pupils across the town the opportunity for growth and success.