Date added: 15 September 2007
Queen's Park Mural Unveiling
STORY UPDATE: Saturday 15th September 2007

After months of hard work and dedication from all involved, Saturday finally bought the official unveiling of the fantastic new mural at Queen's Park.

Head of the Swindon Borough Council, Rod Bluh was just one amongst the crowd of smiling faces present at the ribbon cutting.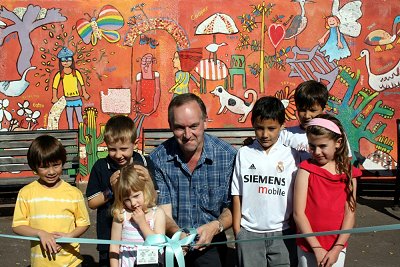 Fit for royalty:


Rod Bluh and project artists open the new mural in Queen's Park

The now permanent feature located in the parks outdoor shelter was inspired by the eyesore which was once the mindless graffiti sprawled across the shelter walls.

The new artwork brings praise from all those who use the park.
"The lakeside is such a beautiful area and the graffiti was really spoiling it," said local resident Sarah Carter.

"What they have done to replace it is fantastic. Let's just hope it's here to stay!"
Positive mark for graffiti
31 July 2007
Often regarded as just mindless vandalism - most notably 'tagging', the seemingly random scrawling of initials on buildings and road signs - the perception of graffiti is largely a negative one.
But two projects in Swindon are now challenging that belief - and making a real effort to change people's attitude towards graffiti as much more of a positive art form.
In the town centre, Jason McCulloch, owner of Threads clothes shop, in the Brunel Centre, held a competition to find the best graffiti artist in Swindon; while Artsmad, a local arts initiative aimed at improving the lives of children and young people, are trying to improve a run-down area in Queen's Park with a graffiti-inspired mural.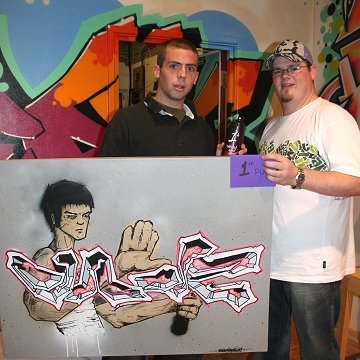 Mark Reynold (L) winner of the graffiti competition with Jason
McCulloch, owner of Threads
"I think it's important to identify the difference between graffiti art and people doing damage to property," said Mr McCulloch.
"In no way do I condone tagging. It's giving graffiti a bad name and it is the bain of our town."
"But you just have to look at the standard of art that was handed in for this competition to see graffiti is actually a modern day art form, and does have a positive side to it."

The winner on the day was Mark Reynolds, whose canvas design was inspired by martial arts expert Bruce Lee.
"Mark's piece conveyed a real passion," said Bernie Maguire, inSwindon Operations Director, who judged the competition.
"This type of art has a place in society, and it's important that we highlight the good side of graffiti which allows people to express themselves."
In a similar artistic vein, Artsmad were encouraging members of the publc to get involved in transforming a eyesore ruining a view in Queen's Park.
In a similar artistic vein, Artsmad were encouraging members of the publc to get involved in transforming a eyesore ruining a view in Queen's Park.
People of all ages were asked to draw pictures and suggest designs that could be included in a mural covering graffiti daubed on a shelter adjacent to the main duck pond.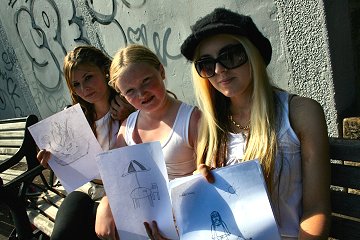 contributors to the Queen's Park project show off their work
The brainchild behind the idea being Lynette Thomas, a local photographer who was planning to include the feature as an negative addition in her forthcoming book about the 'Good, the Bad and the Ugly' of Swindon.
After informing Swindon Borough Council of her intentions, the Queen's Park project was born, with the Council happy to get involved.
"It's a fabulous idea. A real way of getting the community involved in art," commented Claire Smith, project co-ordinator.
"We've had a lot of people stop and take a moment to give us their ideas. The children especially have shown a real enthusiasm for what we're trying to do here."
Drawings and ideas from the day will now be interpreted by local artist Tim Carroll, who will present a final design to the Queen's Park community council this week for approval.
Nice paint job!
Praise for Swindon graffiti gang as railway museum transformation gets under way....

02 October 2008