Date added: 28 September 2007
Billie Gets Steamy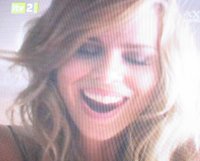 Nearly two million people tuned in to see Billie Piper strip off on TV last night.

The Swindon starlet's appearance as high-class prostitute Belle De Jour in ITV2's 'Secret Diary Of A Call Girl' proving to be one of the most popular programmes ever for the digital channel.

A ratings winner featuring raunchy scenes that Billie herself described as making her 'feel dirty'.

And judging by some of the scenes we can see why!
One included whipping a client while riding him likes a horse (saddle and all) plus a ménage a trois.

Nice work if you can get it, we think!

The series continues on Thursday nights at 10:00pm.
Billie's Back
Swindon star confirms return to Doctor Who...

28 November 2007

Billie Piper
Swindon's pop star turned award-winning actress...