Date added: 06 July 2007
Kevin McCloud's Grand Design For Swindon
Design guru launches plans to build eco-homes in Swindon
Swindon may be known for its world-famous industrial architecture - the Renault building, the glass cigar and the Motorola factory to name but a few - but now an exciting new project is about to put its residential property on the map as well.

Grand Designs guru Kevin McCloud the brains behind a new housing development set to transform two sites in Swindon into 'great and vital communities, which are beautifully designed and environmentally friendly'.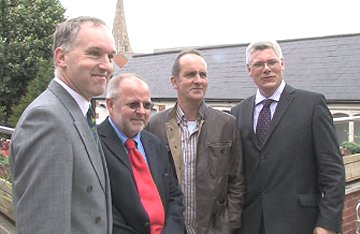 Creative team:


(l to r) Rod Bluh, Leader of
Peter North, Footstep Homes,
Kevin McCloud and Peter Greenhalgh,
Cabinet Member for Highways,
Transport and Stratgic Planning
A bold statement made by the Channel 4 presenter at a press conference today in Swindon, at which the scheme was formally announced.

The groundbreaking project a partnership between McCloud's new development company, Hab Housing [short for Happiness, Architecture, Beauty], eco-expert builders Footstep and Swindon Borough Council - which will be filmed and aired on TV.


"I'm very excited to be given the opportunity to work here in Swindon," McCloud told us, "All the partners share the same view that the future of housing here is one that will be known for architecture of the highest order and world-beating sustainability."

"And this project is the kick-start for that."

"This is incredibly positive for Swindon," added Rod Bluh, Leader of Swindon Borough Council.

"We have been driving hard our vision for sustainable development over the past year to secure Kevin's services, and this project is a great boost to our ambitions."
Grand Re-Design?
EXCLUSIVE TV: Kevin McCloud: "I'm not going to pull out now...." - updated