Date added: 06 July 2007
Kick-off for new five-a-side pitches
Football fans in Swindon have a special reason to cheer - thanks to three new state-of-the-art five-a-side football pitches at the Link Centre.
The new 'third generation' facilities were officially opened today at a ceremony attended by a number of specially invited guests, including the Mayor of Swindon and Town star Michael Pook.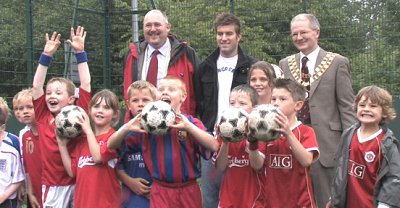 Head-ing for a great future:
(l to r) Councillor Nick Martin, Swindon Town FC
player Michael Pook and Swindon Mayor,
Councillor Michael Barnes with children taking
part in courses organised by STFC Football in the Community
Built to Football Association standards, and costing £200,000 pounds, the flood-lit pitches are made using a ground-breaking synthetic grass which simulates normal playing conditions - come rain or shine.
The pitches, which can take a bladed stud, will now play host to a wide range of football, including junior club training, casual teams and adult leagues run by Swindon Town Football in the Community.
"They're brilliant, aren't they?" commented said impressed Town midfielder Pook, who took time out to take part in a kick-about with youngsters enjoying the new facility.
"As a Swindon lad myself, I think there is a massive demand for pitches like this. The surface is so life-like it's unbelievable."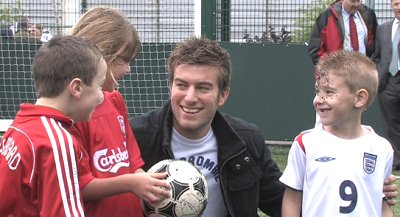 Star turn:
Michael Pook with aspiring young footballers
Children who attend Swindon Town Football in the Community courses being among the first to try out the new all-weather pitches, as well as Swindon Mayor Councillor Michael Barnes and Cllr Nick Martin, Cabinet Member for Resources.
New Investment
"We are responding to the increased demand for places to play football in the Borough," commented Cllr Martin. "I'm delighted to have been involved in delivering this fantastic facility, suitable for people of all ages and standard of play."
The special turf-like pitches are open to everyone and can be booked casually week to week or block-booked for regular play.