Date added: 29 July 2007
Social Care Stars
Some of Swindon's unsung heroes were recognised for their work in the community this week.

The Social Care awards organised by Swindon Borough Council [SBC] acknowledging staff who have gone the extra mile to help vulnerable people in the Borough.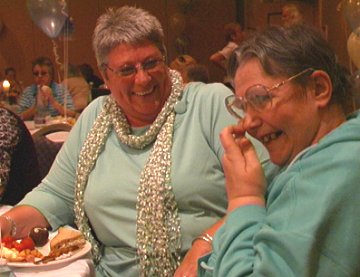 Dedicated and delighted:


carer Bev Edwards (l) with Karen Bright, who
nominated her for an award

Ten different awards were given to individuals and groups who have provide a whole range of services, such as carers, social workers, occupational therapists and support staff.

One such winner being Bev Edwards, a community support worker, who was nominated by Karen Bright, who has worked closely with Bev for the last six years.

"It's amazing to receive this," said an emotional Bev, "I enjoy what I do and this is like a special thanks for all the hard work."

"It's such a personal way for people to show their appreciation which is great."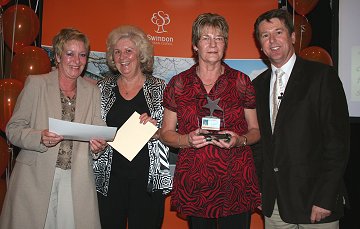 Team effort:


staff at The Ridings Day Centre recieve
their award from Swindon Borough Council's chief
"This is a day I look forward to most in the year," commented Gavin Jones, SBC chief executive, who presented the awards.
"The people who have been nominated for awards are the real people that make a difference. And it's great to have a day dedicated to giving them the recognition they deserve."
Recognition for all
Volunteers are rewarded for their services to Swindon St. John Ambulance...

12 November 2008