Date added: 10 July 2007
Supermarine reach for the skies
It's exciting times for Supermarine Football Club - both on and off the pitch.
With promotion to the British Gas Premier League, and plans for a new stadium redevelopment, there's an air of eager anticipation for things to come at Hunts Copse.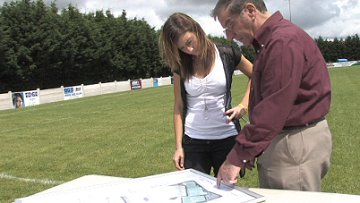 A glimpse of the future:
Supermarine chairman Cliff Puffett shows us the
plans for the club's proposed £1.6 million pound
redevelopment project
"This is a club really going places," Cliff Puffett, Club chairman, told us this week.
"Moving up to the British Gas Premier League is a big step for us as are the plans for a new ground, which have now been granted full planning permission."
Funding the expansion
"It's fantastic for a club of this size to have achieved so much in the last year. But now it's question of securing the funding through attracting bigger gates and raising money in other ways.
"We have big ambitions here and everyone is working really hard to make things happen."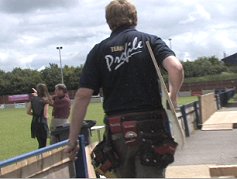 On the up:


Swindon Supermarine's plans
and pre-season preparations

On the field, manager Mark Collier has also been busy preparing for the new campaign - and the visit of Swindon Town FC on Monday night.

A pre-season friendly that will give Collier and his players a true taster of what life will be like at the higher end of non-League football.
"Preparations have gone well," said Collier, "and it's where we want to be."

"A number of our squad are ex-Town players and no doubt they'll have a point to prove on Monday. I'm anticapting a good competitive game, as Paul Sturruck has assured me that won't be sending along a weak side."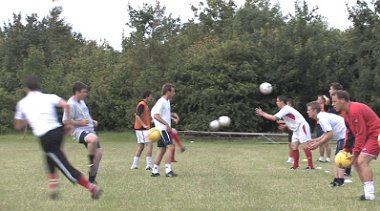 On the ball:
Supermarine footballers prepare for the
The Supermarine Club, which was born out of the old Vickers Social Club and is named after the Spitfire which the company built at their factory during world war two, has been in Swindon since the 1950s.
Dying breed
Once just one of many big sport and social clubs in Swindon that were attached to the town's biggest businesses - the GWR, Garrards,
Plessey, Wills - Supermarine is the only one that now remains.
Other sports played under the Supermarine name include a thriving rugby club (for both men and women), bowls (which this year celebrated their 60th anniversary), and even an archery team, the Supermarine Bowmen.
Big Game Build-Up
Collier pleased with preparations as Supermarine players are told: 'Enjoy it!' - WATCH SWTV INTERVIEWS...