Date added: 12 July 2007
Footie teams on the ball for charity
Charity was the big winner in a night of football in Swindon this week.

Sixteen teams took part in the annual Swindon Cares Six-a-side tournament, played on the main pitch at Supermarine - raising over £1,500 in the process.

Stratton pub, The Moonrakers, eventually coming out on top, beating Centre Fitness in a well-contested final.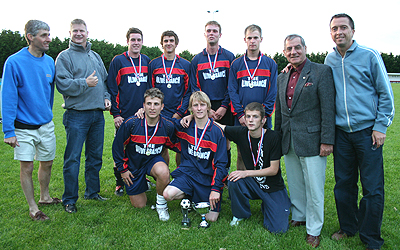 We are the champions:


the Moonraker team celabrate their win alongside
tournament organiser Nick Arkell (far left),
and Supermarine chairman Cliff Puffett (second right)
"Another fantastic effort by all involved," commented Swindon Cares chairman James Arkell, "this event, and the others around town this week, will make a real difference to the people we donate the money to."
This year Swindon Cares is supporting projects for The Swindon Samaritans, The Broad Green Breakfast Club and Swindon Therapy Centre for Multiple Sclerosis.

It is hoped that this year's events - including, amongst others, an inter-company quiz night, a golf day and a Christchurch concert - will raise over £20,000.