Date added: 13 July 2007
Leisure Club all 'set' to go
David Lloyd officially opens in Swindon...
After eight months of hard work - the finishing touches at the David Lloyd Leisure Club in Swindon have finally been made.

With tennis racquet in hand, Town Mayor Michael Barnes gave one of the indoor courts a final test, accompanied by children from local schools.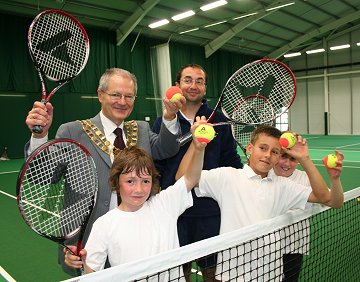 Game, set and match:
(l to r) Swindon Mayor Councillor Michael Barnes,
David Lloyd Tennis Coach Ash Smith and
children from local primary schools take to the court
The youngsters, from Abbey Meads and Bridlewood primaries, having been taught to play over recent weeks by coaches at the club.

"We're all finished and looking forward to welcoming our new members," said Linden Henson, Club Holding Manager, "we're all set to go."

Officially open to members from Monday, 16 July 2007, the facility represents a £12 million pound investment by the David Lloyd company, who also own 59 similar clubs around the country.

Situated adjacent to the A419, users can now look forward to enjoying four indoor and three outdoor tennis courts, two swimming pools, a spa, steam roon and sauna, exercise room and gym plus a multi-purpose sports hall.
"It's a fantastic endorsement for Swindon," commented the Mayor, after serving the first ball, "that David Lloyd have made such a committment to this site and the town."
"Hopefully, these fantastic facilities may even help produce a Swindon tennis star of the future!"