Date added: 14 June 2007
Swindon College - Gifted graduates show off their work
A vibrant mix of artistic talent was on show in Swindon last night.
At the Swindon College School of Art Final Show, 'Debut', close to one hundred graduates from a range of disciplines unveiled their work to friends, family and a number of specially invited guests.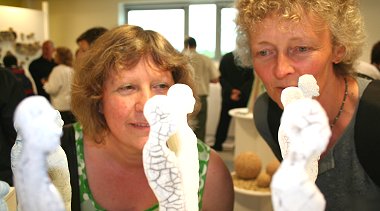 Original work:


guests admire the ceramic art by Susan Whelan

The event, the first to be held at the college's new North Star campus, featured inspiring displays in Fine Art, Graphic Design, Illustration, New Media, Sequential Illustration and Ceramics.

A piece by Ceramic HND student Susan Whelan winning the prize for 'Best Artist in the show'. Her Antony Gormley-like figures praised for their highly textural and individual design. For her efforts she received a £300 pound voucher to spend in local art and crafts shop Inkspot.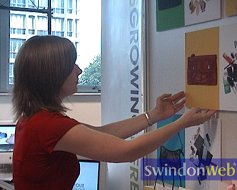 Inspired Individuals
Swindon College School

"Once again, the standard of the work is absolutely fantastic," commented Jeremy Holt, of Clark Holt solicitors main sponsor of the event. "To see the colour and the creativity here tonight is inspirational."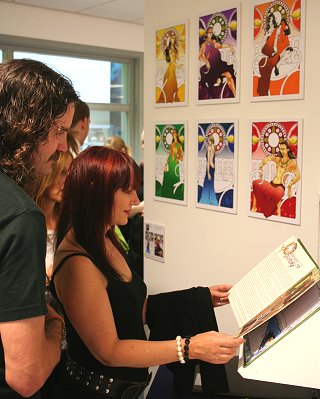 For all to see:
guests admire graduates' work
"We offer a number of courses to suit a variety of students," said Jonquil Brooks, Principal of Swindon College, "in particular a MA in Archaelogical Illustration which is unique in the world.
"There is such a variety of artistic talent here tonight, and it's a joy to have it on proud display for everyone to see."

Swindon College - graduate show 2007 - 14/06/2007