Date added: 15 June 2007
Glorious is on the right track for its new home
Inch by inch, minute by minute, one of Swindon STEAM Museum's most familiar sights has set forth for a new home back on the tracks.
The class 50 diesel, No. 50033, named Glorious, is leaving Swindon to be used for a pioneering project called 'RailSchool'.
A new initiative, based in London, where young people can learn about the railway industry, including discovering how diesel Locomotives are designed and operate.
On its way:


Glorious is manouvered out of the STEAM Museam


"It's brilliant that Glorious will be a vital part of the RailSchool project," commented STEAM curator, Felicity Jones, "but we're sad to see her go."

"Swindon is delighted to be involved with this worthwhile as innovative venture and Glorious will be given a new lease of life as a working Locomotive."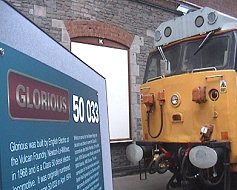 BACK ON TRACK


Glorious's move from STEAM
"We're deeply moved by the generosity of STEAM," said Neil Howard, RailSchool Project Director, "this project is about creating a working railway that will launch thousands of new recruits into life-long careers over the next few years."
Glorious, which will travel to it's new home via the M4, will be practiced on a disused line, between North Woolwich and Custom House, which closed last year.

Glorious is on the right track for its new home - 15/06/2007