Date added: 05 June 2007
Fitness Academy officially opens in Swindon
With the 2012 Olympics just around the corner - a new academy for fitness was officially opened in Swindon today.

Based in Centre Fitness, the Swindon College Fitness Academy offers training programmes for anyone who wants a career in the fitness industry.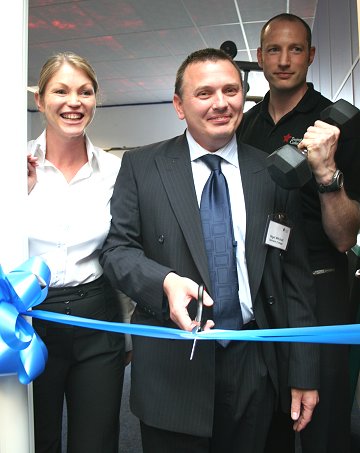 Cutting the ribbon:
(l to r) Business Development Manager Andrea
Fitzgerald,
Swindon College's Facilities
Director Nigel Witchall
and Operations Manager David Parker

"It's been a fantastic day," commented Andrea Fitzgerald, Business Development Manager for the Fitness Academy.

"We offer courses ranging from level two gym instructor, right up to level three and four for those who want to continue their development. Our aim is to offer high quality courses, with more affordable costs."

The courses are intended for anyone who has an interest in fitness and want to complete a course in a matter of weeks rather than studying for a year.

"It's great to fund an organisation like this," said Jonquil Brooks, Principle at Swindon College "with the 2012 Olympics in sight, there is no better time to get young people inspired in fitness."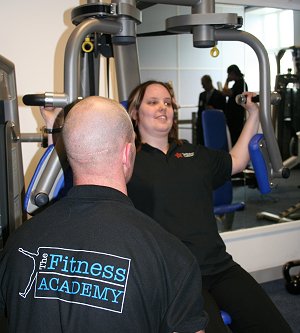 Working out:
Darren Stevens shows off the hi-tech
facilities in the Fitness Academy
Highest Standard
The Fitness Academy also received a certificate from their Awarding Body Active IQ, for being the first Active IQ centre delivering exercise to music.
So whether you just have a general interest in wellbeing and fitness, or even thought of a career change involving your passion, the Fitness Academy may have a course for you.
For full details and an introduction to courses available please visit the link below.