Date added: 01 June 2007
St. Peppers Lonely Hearts Club Band
Swindon's connection to the Beatles' most seminal album
Featuring Swindon:


the 1967 Sgt. Peppers
album
The Beatles were four guys from Liverpool who changed the face of popular music.

The most critically acclaimed band in the world, who in the late 1960s were at the height of their songwriting powers.

Their album Sgt. Peppers Lonely Hearts Club Band the most eagerly awaited record in history when it was released on 01 June 1967.

A seminal 60s work influenced in two ways by Swindon! Both musically and graphically.

You could almost say, they couldn't have done it without us.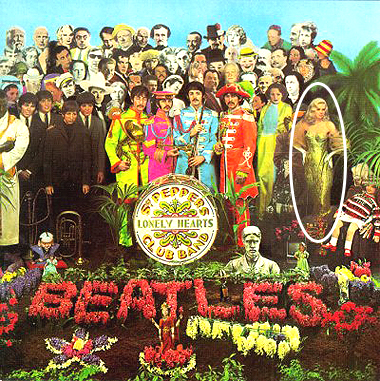 In famous company:
Swindon's blonde bombshell, Diana Dors

The cover of the Sgt. Peppers album is equally as memorable as the music.

The colourful collage of life-sized cardboard models of famous people put together by Peter Blake, an iconic piece of art that for many summed up the 1960s and the '67 'Summer of Love'.

And in pride of place in the front row next to John, Paul, Ringo and George was Swindon's own - Diana Dors.

Our most famous actress chosen personally by the group as one of the key personalities and heroes that had most influence on their lives, especially when they were growing up.

Her distinctive face and blonde locks - in a gold dress and white gloves - appearing amongst 73 other historical figures from around the world including Oscar Wilde, James Dean, Karl Marx, Bob Dylan, Shirley Temple and Marlon Brando to name but a few.

Her appearance all the more significant when you consider the likes of Elvis Presley, Mahatma Gandhi and even Jesus Christ himself weren't included.

Ms. Fluck (to use her real name when she was born in Swindon in 1931) most pleased apparently to feature more prominently than the woman she was often compared with - Marilyn Monroe, whose head appears in the centre, second row.

Our strongest connection to Sgt. Peppers and the Fab Four has to be the man they call the 'Fifth Beatle'.

A familiar face in Swindon for nearly fifty years, and the person the band trusted to produce and mix the album in EMI's Abbey Road Studios - George Martin.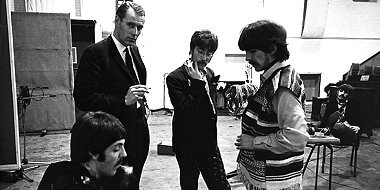 In the studio:
George Martin with Paul Mcartney, John Lennon,
George Harrison and Ringo Starr at Abbey Road studios

"It was an amazing period to be involved in," said Sir George, who can often be seen shopping in Highworth, just three miles from his home in Coleshill, where he has lived since 1964.

"Each song and its contents was innovative in every sense. And you could tell at the time it was going to be something special."

Sir George's experience and influence far more reaching than just advising on instrumental arrangement and recording techniques.

His notable contribution on Sgt. Pepper being the orchestral finale for 'A Day In The Life'; the piano playing on 'Lovely Rita' and the 'circus' sounds for 'Being For The Benefit Of Mr Kite'.

In 1978, his connection to the album went even further when he was asked to produce the soundtrack for the Bee Gees' film 'Sgt Pepper's Lonely Hearts Club Band'. A musical tribute to Lennon and McArtney's original work that Martin described as a 'thoughtful interpretation'.

In 2006, alongside his son, Giles, he re-mixed the Beatles 'Love' album to critical acclaim - the first time a third party has ever been given permission to alter a Beatles recording in such a way.
The Beatles
50 years on from their first UK hit - here's the FIVE links between Swindon and the fab four...

From Kent Road to Cannes
Diana Dors: the Swindon girl who made it big before the days of botox and boob jobs...

23 October 2011

Yield To The Night (15)
The film classic that made Diana Dors, the "Siren from Swindon", a star - SPECIAL SHOWING TONIGHT...

Well Stone Me!
50 years on - but what is Swindon's connection to Mick, Keef and co...