Date added: 26 May 2007
Young Chefs Cook Up Culinary Delight
It was 'hats off to the chefs' today at the Swindon College cookery challenge final.

With over eleven different schools around Wiltshire taking part; teams had just 90 minutes to cook, dress the tables and present the food in 'The Restaurant.'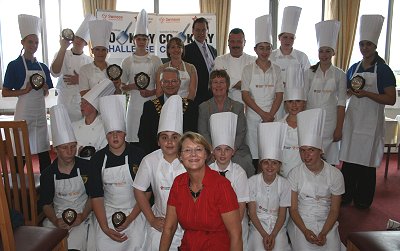 Chefs in the making:


Swindon College cookery challenge finalists

"It's been an absolutely fantastic day," said Jonquil Brooks, Principal of Swindon College.

"The standard of the food has been outstanding - from roasted asparagus to homemade sausages. What is unique about this challenge is the students had to research food grown locally, which allowed the chefs to learn how it is sourced, how it's produced, to then create these marvellous menus."

Dish of the day

In the end, the Swindon Borough Council-sponsored event gave top marks to Farmors School in both Key Stage three and Key Stage four.

Rachel Keogh and Andrew Illman in Year 9 won over the taste buds of the judge's with a Wiltshire sausage casserole, and a chicken dish wirh apricot and celery sauce was the winning dish for Lily Pantry and Matthew Smithson, year 10.

"All of our efforts finally paid off," commented Lily, 15, "as the 90 minutes approached our nerves started to set in, but it feels great to be crowned the winners."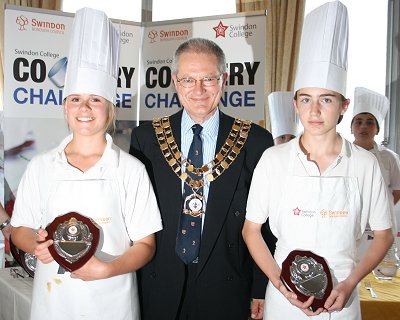 Recipes for success

:
(l to r) Rachel Keogh, Mayor of Swindon,
Councillor Michael Barnes, and Andrew Illman
Lily Pantry and Matthew Smithson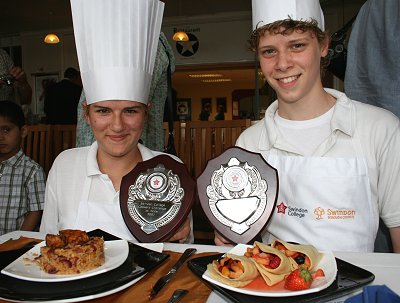 "I hope this will become a regular event," said Catering lecturer Steve Matthews, "next year we hope to get the local dinner ladies involved."
The Restaurant

If this has made your mouth water - Swindon College contains 'The Restaurant' which is run by the Students training in the catering industry.

The Restaurant is open Monday to Thursday for lunch and Tuesday to Thursday for dinner. For enquiries and reservations telephone (01793) 498244.

Swindon College Cooking Challenge - 26/05/2007