Date added: 10 May 2007
Arkell's toast Town
It was beer all round at the County Ground!
Swindon's Arkell's brewery were at the County Ground today, having produced a special celebration ale to commemorate Swindon Town's promotion to League One at the weekend.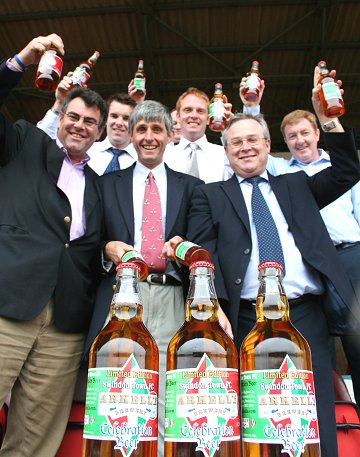 A fine Town tipple:


Nick Arkell (centre) raises a toast to Swindon
Town FC alongside STFC's marketing department
and board members,
Mike Bowden (left) and Martin Starnes (front right)


"We are absolutely delighted at the team's success and wanted to show our appreciation in the way we know best," said Nick Arkell, Sales Director at Arkell's Brewery.

"As soon as we knew the result, our head brewer got to work and began bottling a celebration ale fit for our local heroes."

Nine hundred bottles of Celebration Beer were brewed immediately after Town clinched promotion on Saturday, and are being delivered to all Arkell's pubs and other venues across Swindon this week.

"It's a terrific gesture by Arkells," commented Martyn Starnes, chief executive of Swindon Town Football Club.

"And just shows what can happen when you have such a good partnership with local companies."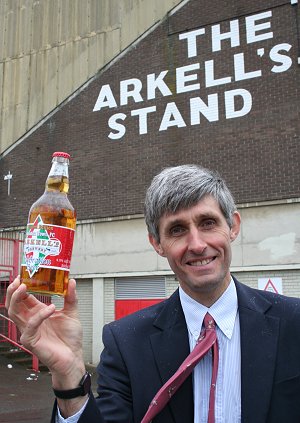 'Ale-ing the Town:


Nick Arkell outside the Arkell's stand

Arkell's relationship with Swindon Town goes back generations - to 1896 in fact, when Thomas Arkell donated £300 to finance the construction of a stand on what was then known as the 'Wiltshire County Ground' and now just the County Ground.

The brewery having also been major supporters of the club through their sponsorship of the Arkell's stand for over 30 years.

"Local success in the Beautiful Game gives everyone in the town a real feel-good factor," added Nick Arkell.

"Everyone at Arkell's raises a glass to Swindon Town Football Club."

"LUCKY PANTS" secure STFC promotion
Swindon-based underwear brand sloggi were also onhand to congratulate Swindon Town Football Club after their promotion success.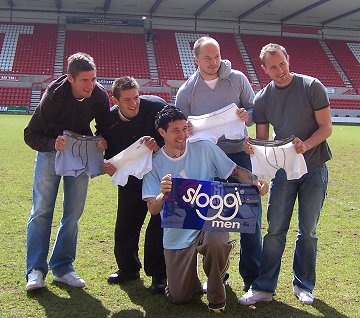 Helping with ball control:


STFC players show off their lucky underwear


Of course, sloggi manufacturers Triumph say the team's achievement is thanks partly to the fact that the they were wearing "lucky pants" courtesy of sloggi Men - a fresh supply of which was promptly sent from Triumph's UK headquarters here in Swindon last week so the lads could continue their winning streak.

STFC joining a long line of famous sporting names associated with sloggi Men including Olympic gold medallist Linford Christie and rugby players Ben Cohen, Brian O'Driscoll, Mark Taylor and Simon Taylor.

"On a technical note, these pants are made in a special core-spun cotton/Lycra material," commented Sloggi spokesperson Sue Loder.
"That means stretchy Lycra threads are wrapped in cotton. This makes the pants soft, breathable and absorbent and gives them a long life. We like to think the pants contributed towards the team's fine performance and success."