Date added: 29 May 2007
Shame about the 'Bitter' weather
It may have been tipping down - but it didn't stop the 50th Wanborough beer race from taking place.


Thirty eager competitors braved the heavy rain to take part in the annual Bank Holiday Beer Race which is the villages great tradition.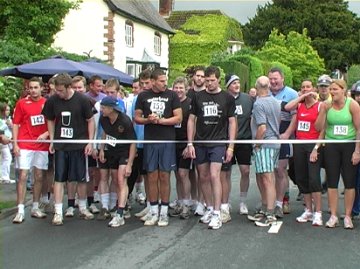 Ready to run:
competitors in the Wanborough Beer Race
get ready to start at The Harrow Inn

The beer guzzling runners had to drink half a pint of bitter at each of the six local pubs taking them around the 2.2 mile course.

The event attracted a large crowd who eagerly waited for the first struggling runner to return.

Eventually Alex Golding, 26, was the victorious winner who completed the run in 16.29 minutes, nearly a minute clear from the other competitors.

"This is my third time running this event," said Alex, who has just run the London Marathon "the running didn't really cause any problems, it was the beer which was such hard work!"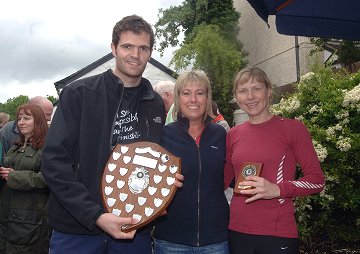 A great round:


(l to r) Alex Golding, first man across the line,
Karen Gray, Landlady The Harrow Inn
and Elaine Widdowson, first women to finish

Each year the race starts and finishes at a different pub, with the honour this year going to The Harrow Inn.

From here the runners ran down to The Brewers, The Cross Keys, The New Calley Arms, The Black Horse and then for their last drink at The Plough - before running to the finishing line back at The Harrow Inn.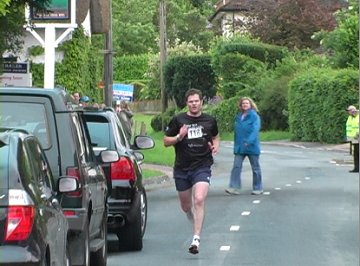 Legless:


Alex Golding in the final stretch of the race
Last years winner, Micheal Kent was unfortunately unable to defend his title this year due to injury - so the race was open for a new champ.
Finishing second was Rob Hunt, in 17.25 minutes, shortly followed by his dad Tim Hunt, who crossed the line in 17.34 minutes.
"I can't believe Rob beat me," said Mr Hunt, "I'll have to come back and retain victory against him next year."
The fastest lady was Elaine Widdowson, who completed the course in 22 minutes, 30 seconds faster than last year.

Wanborough beer race - 29/05/2007
Wat'er Weekend!
Downpour spoils the bank holiday for some... but not others - see gallery...

26 May 2008