Date added: 30 May 2007
Champagne 'Fore' All
Racing legend opens new pro shop at Wrag Barn Golf Club
Swindon's sporting legend John Francome was the guest of honour at Wrag Barn this weekend to officially open the new pro shop.

Since opening its doors in 1990, Wrag Barn has continued to invest in making the club attentive to its members and visitors wishes and needs.


Cheers, to a great round:
celebrations at the grand opening of Wrag Barn's
new pro shop(l to r) Danny White, John Francome


The refit, which took two months to finish, has a new reception area, new access to the shop, as well as stocking a full range of golf wear and golf equipment.

A plasma screen has also been mounted on the wall to promote up and coming events, as well as informing members of the latest results of all sporting events.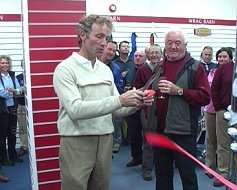 In Full Swing
video of the official opening of the
new pro shop

"Its been a wonderful day," commented Tim Manners, proprietor of Wrag Barn, "we're really excited to have a brand new shop, and it's great to have all the support from the members.

"We're continuing to look to the future, and we're always trying to think of new and exciting ways to improve the golf course."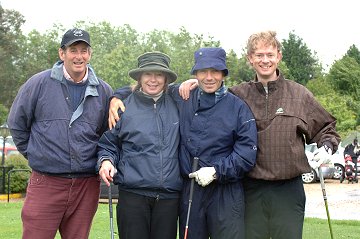 Teeing up for a new era:
(l to r) Tim Manners, Verity Manners,
John Francome and Phil Poulton
After a champagne reception, members braved the bank holiday rain to play 9 holes around the Wiltshire golf course.
"It hasn't spoiled the day too much," said sporting star, John Francome, "the course is in tremendous condition - typical that it was sunny yesterday - but they've had a great turn out to celebrate Wrag's new era."
"I've played here since it first opened, and it's great to see it mature into a proper golf course - I just hope my golf skills have improved as much as this place has!"

Wrag Barn pro shop opens - 30/05/2007
John Francome
Swindon gee-gee genius and seven-times champion jockey...