Date added: 12 April 2007
Duke does Digital in Swindon
The Computer Museum in Swindon receives Royal seal of approval
The Duke of Kent, the Queen's cousin, notably impressed while taking in a tour of the unique collection of computers and arcade games while on a two-hour visit to the University of Bath in Swindon.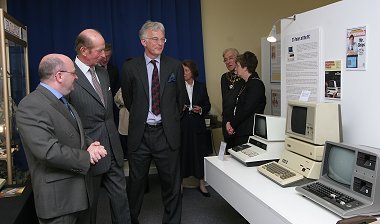 Enjoying a browse:
the Duke being shown round the museum by
curator Simon Webb (l) and founder Jeremy Holt (r)

The museum is the only one in the UK dedicated to the history of computing, and has been based at the Oakfield Campus since it first opened in 2003.

"It's a wonderful exhibition," the Duke said, "and one that brings back many memories for me personally."

"Everyone involved here should be very proud."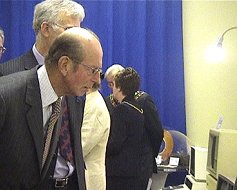 By Royal Appointment
the Duke of Kent's visit to the
Museum of Computing in Swindon
During his visit, the Duke took time to speak to the various volunteers who run the museum, including curator Simon Webb and the founder Jeremy Holt.
Royal admission
In one conversation the Duke even revealed how good the Queen is when it comes to technical matters!
"I can tell you Her Majesty knows how to use a TV remote control very competently," he admitted, "she picks things like that up very quickly."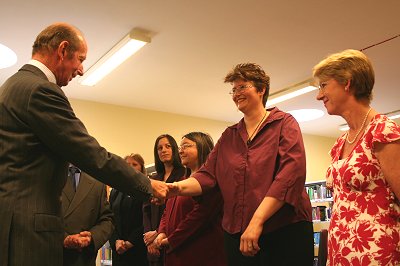 Congratulations on a job well done:
the Duke meeting volunteers from the museum
Before leaving the Duke was introduced to the principal sponsors, Intel, represented by John Woodget, Managing Director of Intel Corp UK Ltd, and Jim Murray, Technical Marketing Engineer, before signing the visitors book.
The museum - which features a number of fully working arcade games dating from the 1970s and 80s - is open six days a week (exact opening times can be found the website, link below).

Duke does Digital in Swindon - 12/04/2007
Dancing For The Duke
VIDEO: Very special Royal guest enjoys ballet, urban and hip hop classes at Swindon Dance...

27 October 2014

Bedroom Programming Challenge
Spend a night at the museum...step back into the 80's and create your own hit computer game. No programming experience needed! 14 MAY...

Gaming On The Go
A new exhibition looking at the handheld games console's 35 year history. Over 50 exhibits on show with many available for visitors to play!

Home sweet home?
It's good news and bad news for the Museum of Computing...

28 May 2008