Date added: 04 April 2007
Tunnels and chambers
Some say they were used for smuggling booze or even people.



Some even think they stretch as far as the Lawn or to Coate Water two miles away.
But what is certain is that there are tunnels in Old Town - and they're fascinating local residents, Swindon historians - and us.
What lies beneath:


but just where do the Old Town tunnels lead?

A network of underground chambers and passageways that have recently come to light during the restoration of one of Old Town's most famous buildings.

"We were pretty surprised to find them," said construction worker Ken Clayton of David Wilson Homes, who are transforming the 300-year-old Vilets House in Cricklade Street into luxury apartments.

"There are three tunnels and they stretch for over 120 ft before they're blocked off. Where they go after that, we're not sure but they're definitely generating loads of interest."

The building, the former long-term offices of legal firm Thring Townsend, was first built in 1729 and it is believed the tunnels date from that period.

One appears to link the basement of Vilets House with the former coaching inn the Goddard Arms, with the others heading off in the direction of the Lawn, and the ancient church of Holy Rood.

Until the 1950s the Lawn was the home of a fine eighteenth century house built on the site of a Tudor mansion and the residence of the Goddard family, Lords of the Manor of Swindon from 1563.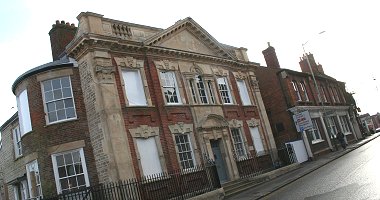 Being restored:


Vilets House - once described by
former Poet Laureate John Betjemin
as 'one of the most distinguished town houses in Wiltshire'
"Who knows were they originally led," explained local historian, Cilla Slipper, "but their existence is fascinating."
"It's amazing to think of how much there is about Swindon that's yet to be discovered."