Date added: 06 April 2007
Howell at the Masters 2007
Swindon pro bids for a Green Jacket
MASTERS UPDATE: 08 April 2007 9.01pm
Howell takes the positives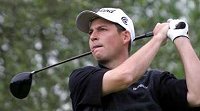 "I'll be back" was David Howell's closing comment after a final round of 77 left him in 44th place.

His five-over score ended a disappointing weekend for the Swindon golfer, who started the last two rounds challenging for a Green Jacket - but ended up fifteen shots behind surprise winner Zach Johnson.

A setback that Howell described as "frustrating, but not the end of the world".
"I keep proving that I can play this course," Howell added, refusing to be downbeat.
"I just have to step up a gear when the time demands it. I've played here three times and been in contention three times early in the tournament.

"If I keep up that form here I know I can finally make it happen one weekend. That's my aim and that's why I'll be back next year even more determined to do well."

US Masters - website
MASTERS UPDATE: 08 April 2007 12.18am
Third round collapse ends Howell's hopes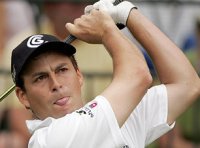 David Howell has dropped out of contention for this year's US Masters after a disasterous third round of 82 left him nine shots off the pace on +11.

In a dry and windy day of unprecendented high scoring, no player finished under par. Australian Stuart Appleby leads on +2. Tiger Woods is on +3.

But after six holes it was Howell, who started the day on +1, who was battling it out for top spot - until a triple bogey at the seventh started a run of eight dropped shots in seven holes.
The Broome Manor member's only birdie came at the last hole.
"I had a nightmare out there," Howell admitted, "after what seemed like quite a steady start."
"It's a course that can really bite you when you're not on the top of your game and that's what happened to me basically.

"I'm very disappointed with myself. It's a good opportunity missed. Especially with the leaders going backwards as well."

Coverage of the Masters continues on BBC2 at 7.30pm.

US Masters - website
MASTERS UPDATE: 06 April 2007 7.59pm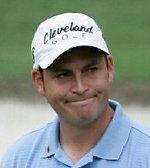 He made a nightmare start to his second round - but he's still well in contention.

David Howell survived a double-bogey, bogey score on the first two holes this morning to eventually shoot a 75 on the second day of the Masters.

At +1, Howell is just three off the lead.

"I'm relieved, to be honest," the Swindon golfer said, "It could have been worse, but I ground it out. And I can take a lot of positives from that.

"If only I'd driven better, I'd be in even better shape, but I'm in the hunt again at Augusta after two days and it's a wonderful feeling."
Brett Wetterich still leads on -2. Tiger Woods shot 74 to lie on +3.

TV coverage continues on BBC2 at 9:00pm.

US Masters - website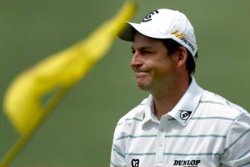 David Howell has made what he described as the 'perfect start' to this year's US Masters.

The Swindon golfer shooting a two-under first round of seventy to lie in second place, just one shot behind leaders Justin Rose and American Brett Wetterich.

An eagle three at the par 5 fifteenth hole, one of many highlights for Howell during his best ever start at Augusta.

"That was definitely one of the best shots I've hit around here," Howell said, in recounting the crisp three iron he fired into two feet from 215 yards.

"That and a number of good putts. The perfect start, you could say."
But after a similiarly impressive opening round last year, after which he fell away to eventually finished 20th, the Broome Manor member was keen not to play his chances of Green Jacket glory up too much.
"You know me. I won't be getting over excited," he admitted, "there's still a long way to go."

"My form has hardly been brilliant in the last few weeks, so I won't be looking too far ahead. Let's just wait and see."

Howell tees off his second round today at 2.28pm UK time. US Masters coverage continues on BBC2 at 9.00pm.

US Masters - website
David Howell Interview
SWTV speaks to the Swindon golf star ahead of this week's Ryder Cup - WATCH VIDEO

21 September 2012

What a shot!!!
Gong-ho David Howell enjoys the luck of the Irish in golf challenge - WATCH VIDEO...

16 August 2010