Date added: 01 April 2007
May Elections 2007 - on video
STOP UPDATE:

04 May 2007 8.06am
Swindon Council remains under Conservative control
Shocks were few and far between in the Swindon Borough Council elections last night.

The Conservatives remain in power with a slightly increased majority of 27 - up 2. They now hold 43 seats, Labour 13 and the Liberal Democrats 3.
| | |
| --- | --- |
| Party | No. of councillors |
| Conservative | 43 |
| Labour | 13 |
| Liberal Democrat | 3 |
| Other | 0 |
The Tories managing to take Freshbrook and Grange Park, as well as Moredon from Labour, with Labour success coming in Penhill and the Central ward.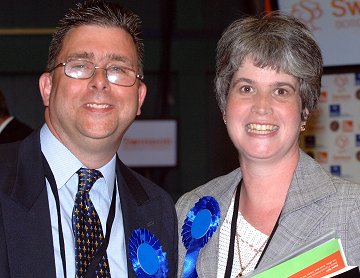 All smiles:


Paul Finlow (l) who held St. Philip by
just 36 votes and Stephanie Exell, who beat
former Swindon mayor Maureen Caton
to claim the Moredon seat.
Calyx multimedia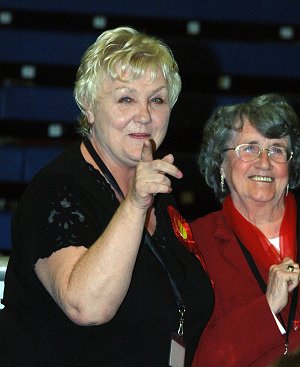 I'll be back?:


Maureen Caton, who lost her place on
Swindon Borough Council after 20 years
Calyx multimedia

The main talking point of the election, though, concerned the speed and validity of the e-voting system used.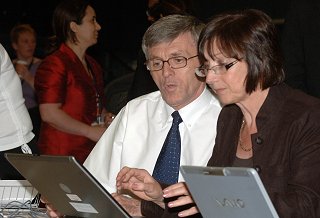 Frustrating:


count officials struggled with
the IT voting system
Calyx multimedia

Swindon South MP, Labour's Anne Snelgrove describing the delays in counting votes cast online as 'unacceptable' and a 'shambles'.

The final result was delayed by two hours while Internet votes were re-checked after a computer glitch.

Swindon Elections 2007
- full results
---
It's that time of year again - a chance for the people of Swindon to have their say.

The opportunity for those of voting age to decide who runs our Town - and how the money raised by Council Tax is spent.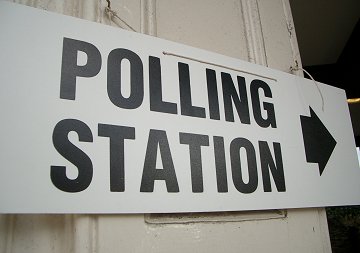 Who will get your vote?:


why not take a look at our videos before deciding?

On Thursday 03 May 2007 the Swindon local elections will take place, and representatives from all the major political parties will be vying for seats on Swindon Borough Council [SBC].

At present, the Conservatives are in control of SBC with a majority of 25 seats - but, of course, that could all change if you have your vote.
| | |
| --- | --- |
| Party | No. of councillors |
| Conservative | 42 |
| Labour | 12 |
| Liberal Democrat | 3 |
| Other | 2 |

That's why we've been out to ask each local party why they think you should vote for them - in just 30 seconds!

That's right, just when everyone is saying they have no time for politics, we found five willing councillors brave enough to state their party's cause with zero waffle, impossible as that may seem!

Just simply a straight-talking half-minute on camera, with no editing.
We even asked the BNP Party (three times!) for their bit to camera, but they declined our invitation to take part.

This year there are more ways to votes in the Swindon elections than ever before.

Options include:
- By Internet
- By Telephone
- In Libraries
- By Post
- At Polling Stations
The choice is yours. Just remember it's on
Thursday 03 May
.

Full information on how to vote including details on pre-registration for Internet and Postal voting is available via the 'My Election'