Date added: 27 March 2007
David Lloyd Leisure Centre nears completion
The new David Lloyd Leisure Centre in Swindon is nearing completion.

At a special topping out ceremony today senior representatives from builder Willmott Dixon and David Lloyd celebrated the structural completion of the new £12 million pound facility - and looked forward to its summer 2007 grand opening.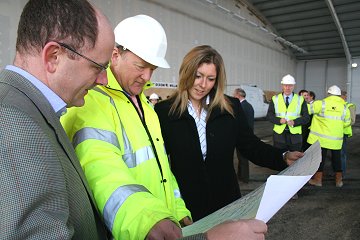 Surveying the plans:
David Lloyd Leisure Swindon General Manager
Jacqui Wilson (r) together with
director Grant Wright (l)

"Everything is coming together very nicely," commented General Manager Jacqui Wilson, "it's a very big investment for David Lloyd Leisure here in Swindon and we're all very excited about what we'll be offering here."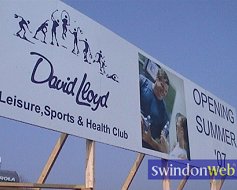 On course for summer
a first look at the new
David Lloyd Leisure Centre

Situated adjacent to the A419, next door to the Motorola factory in Groundwell, the new club will boast both indoor and outdoor swimming pools, spa and leisure facilities, three outdoor and five indoor tennis courts, and a multi-purpose sports hall.

Even before opening - which is due on 16 July 2007 - over 150 members have already signed up.

Full details are available via the link below.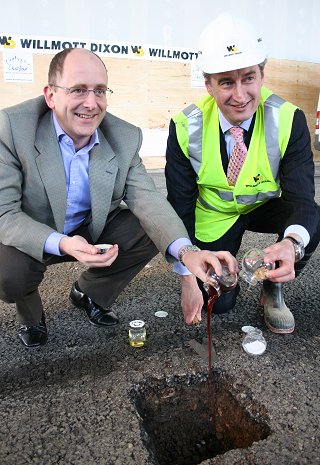 Topping out:
David Lloyd Leisure Director Grant Wright
and Willmott Dixon Chief Executive Rick Willmott
perform the ceremony by sprinkling salt
(for purity and hospitality), oil
(for liberty and prosperity),
corn (for prosperity into abundance) and wine
(for fertility and wisdom) before placing a small
yew tree on the top floor.
And how the centre will look below.