Date added: 23 March 2007
Delivery boy is uni-que in Swindon
He finds it quicker than two-wheels - and a lot more fun
.
Fifteen-year-old Stuart Heath is uni-que in Swindon for being our only one-wheeled paper delivery boy. A task he completes everyday near his home in Eldene.
And he's become so good at it, even the recent snow couldn't put him off - or the funny glances from bemused passers-by he receives every time he collects his papers from Martin's Newsagents in the
Eldene Centre.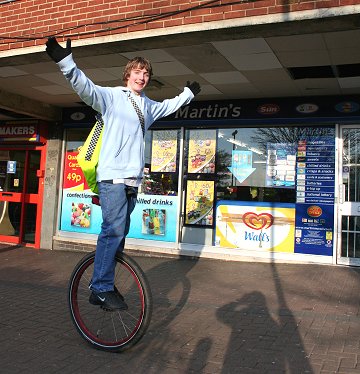 Balancing act!:


Stuart Heath on his unicycle outside
Martin's Newsagents in Eldene
"I started riding a unicycle at the end of last year, and I really enjoy it," said Stuart, "it only took me two weeks to pick it up and it saves me loads of time on my rounds."
"Although I do get a few weird looks and some funny comments!"

Delivery boy is uni-que in Swindon - 23/03/2007