Date added: 04 January 2009
Pet Rescue
STORY UPDATE: 3.40pm 0
7 January 2009
Dog Owners reminded of ice dangers - again
Wiltshire Fire Brigade have reiterated their warning to dog owners after a terrier drowned earlier today.
A Jack Russell fell through the ice at Jubilee Lake in Wootton Bassett and could not be rescued.
And another dog had a narrow escape at Peatmoor Lake later this afternoon when its owner risked his life by venturing onto the ice to save it.
With the continued weather pet owners are being reminded to keep their dogs on a lead and not to allow them to wander onto frozen lakes and water.

Firemen wade into freezing water to save labrador
04 January 2009
Dog owners have been warned about the dangers of frozen lakes after a labrador was dramatically saved in north Swindon yesterday.
Bella, a young black lab, fell through the ice in Taw Hill on Saturday morning but luckily managed to find safety on an island before being rescued by the fire service.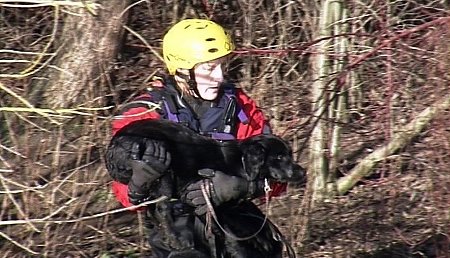 Bella the labrador is rescued by the Swindon Fire Service
"Frozen lakes are dangerous places," said a firefighter co-ordinating the two-hour operation, "and owners should not allow their dogs to venture onto the ice under any circumstances. It's plain common sense.
"This rescue had a happy ending but only through good fortune and the bravery of the firefighter who waded into the freezing water to lift the dog to safety."
Pets & Cold Weather
With the cold weather set to stay, here's our advice on how to look after your pets when it starts to get chilly!...

Beaufort Blaze
Fire crews fight to save former Wootton Bassett pub - watch video...

Frozen Over!
Cold snap means dancing on ice for Stanton swans...

03 January 2009