Date added: 09 January 2009
Gordon Brown in town again
Prime Minister opens new school and chooses Swindon to highlight spending programme
Gordon Brown made his second visit to Swindon inside 3 months today - with the current state of the UK economy once again taking centre stage.
The PM arrived to officially open the new Isambard Community School in north Swindon this morning, and to announce a massive public spending programme which he hopes will help Britain beat recession.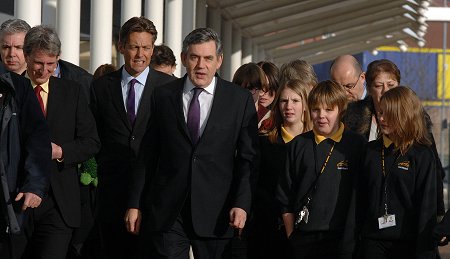 Gordon Brown with Isambard pupils and Swindon North MP
Michael Wills (second left) and being welcomed by
Swindon South MP Anne Snelgrove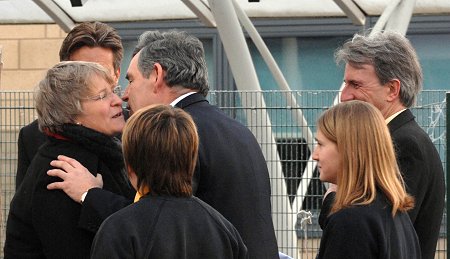 "The economic slowdown must not be an excuse to slow down the pace of investment and reform to strengthen our country for the future," he said, after meeting staff and pupils.

The Government's £40 billion investment programme for 2009 is central to the Prime Minister's plan to restore economic growth and create 100,000 jobs, and schools and colleges across England are expected to benefit from refurbishment and rebuilding.
Mr Brown also commented briefly on the current problems facing the car industry and Honda in Swindon.
"We are working with all parties involved to improve the situation to help safeguard car production jobs and improve financing options for car buyers," he said.
Protesters outside the school highlighting a campaign to abolish tax on savings were moved on before the PM arrived.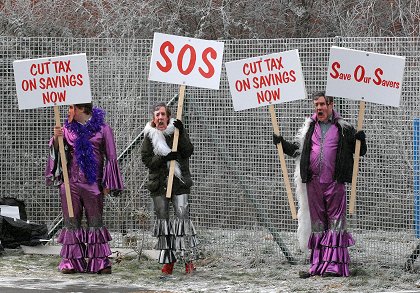 protesters outside Isambard school before the visit of the PM
During his brief stay, the PM also found time to meet pupils from Wootton Bassett at Swindon train station who are involved in an after-school film club initiative.
"Greater exposure to world cinema deepens children's understanding of different cultures and ideas," he explained.
The PM continued onto south Wales as part of a regional tour to see for himself the effects of the credit crunch.
Election Time 2010
Final day - still unsure? Take a final look at our guide to see videos, history and more...

Cameron in Swindon
Conservative leader chooses Coate pub garden to launch 'grey manifesto'...

18 April 2010

Andrew Lansley
Conservative shadow secretary of state for health visits Maple Court in Swindon...

14 April 2010

Theresa Villiers
Shadow secretary of state for transport visits MAN in Swindon...

07 April 2010

General Election Time
They say whichever party wins in Swindon, wins the general election - we look back on results since 1969...

Who is Michael Wills?
A simple question, we thought? Surely everyone knows he's our North Swindon Labour MP?....

Order! Order!
Commons telling off for Swindon MP Anne Snelgrove...

18 March 2009