Date added: 28 January 2009
Bridging the skills gap
New Diploma Centre opens at Swindon College
Swindon's new £1.3m Engineering and Construction Diploma partnership centre was opened today.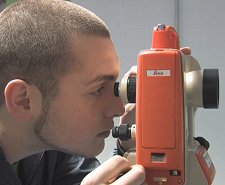 Relevant training with hands-on
the aim of the new Diploma Centre
Professor Peter Gregson, President and Vice Chancellor of Queen's University Belfast, and a leading champion and supporter of engineering in education, the specially invited guest at a ceremony also attended representatives from Honda and other major businesses, staff and pupils.
The 14–19 partnership centre, which is an extension to two existing workshops at Swindon College, is for the use of students studying the new Diplomas in Construction and the Built Environment and in Engineering and was constructed with funding from the government and from the college's own capital reserves.
"It is the first of its kind in Swindon – a genuine partnership centre where specialist resources are pooled for collaborative teaching of specialised Diplomas which will offer a huge skills base in the local economy" said Chris Walton on of Swindon's 14-19 co-ordinators.
The single storey workshop provides 700m² of space for learners to practise construction and engineering applications using specialist equipment as well as creating five new additional classrooms.
"Swindon College's focus is on delivering work-related courses with industry standard facilities and the new workshop is yet another excellent example of how we can do this," said College Principal, Nick Letchet.
In addition to Construction and the Built Environment and Engineering, the College offers the Diplomas in Hospitality, Business, Administration and Finance, IT, Creative and Media and Hair and Beauty Studies – all of which are delivered in realistic working environments.
"This investment will make a real difference to the employability skills of generations of young people who will choose to do these courses," added Garry Perkins, Swindon Borough Council lead member for Children Services.
Recognition all round
Swindon College host UK Plumbing Apprentice of the Year 2009 Regional Competition...

20 February 2009

Gain a new skill!
Affected by Redundancy? Go to Swindon College's 'Futures Fair'...

18 February 2009

Vision for Swindon
Swindon College students show shoppers their ideas for Swindon's future...

05 February 2009

Asimo
Youngsters enjoy the power of robots at Swindon technology workshop...