Date added: 30 January 2009
The year of the heart
New campaign puts focus on improving Swindon's health and well-being
'Saving the life you love' is the message behind a new campaign 'Swindon 2009 – the year of the heart', which was launched today.

An initiative that aims to promote good health and wellbeing – and, crucially, to reduce the number of heart-related deaths in Swindon.
The town suffered over 5,000 related incidents in 2008 alone. One of the worst records in the south west.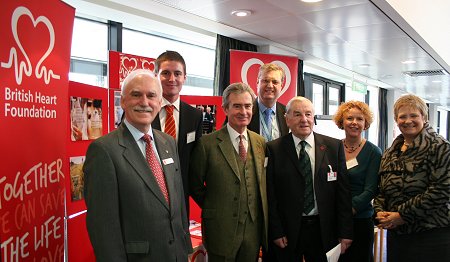 Getting to the heart of the matter:
(l to r) Terry Kinsman, BHF Regional Director; Barry Corr, Swindon Town Football Club; Paul Bancroft, BHF Fundraising Manager; David Renard, Swindon Borough Council; Roderic Marshall, Lead Volunteer BHF Swindon; Jane Leaman, Director of Public Health Swindon Primary Care Trust; and Anne Snelgrove, Swindon South MP
The launch, which was held at the Liddington Hotel, was attended by Swindon South MP Anne Snelgrove, as well as representatives from the local Primary Health Trust and Swindon Borough Council.

It was supported by a number of local gyms and health clubs plus Barry Corr from Swindon Town FC, who of whom were keen to help get the message across.
One lady in particular was also especially pleased to be there - Christine Cox, who has recovered from a quadruple heart bypass operation earlier this year.
"The foundation are a fantastic organisation doing great work to save lives," Ms Cox said.
"I'm one of the lucky ones who has survived a heart attack, so it's so important to get the knowledge and awareness out there so people know the symptons and how do deal with it."
Swindon Year of the Heart