Date added: 05 February 2009
Vision for Swindon
Swindon College students show shoppers their ideas for Swindon's future
Students from Swindon College's exhibited their 'Visions For Swindon' at the Brunel Shopping Centre today.
Around 80 students, from the College's school of art, were given a blank canvas to come up with ideas of how they would like Swindon to look in the future.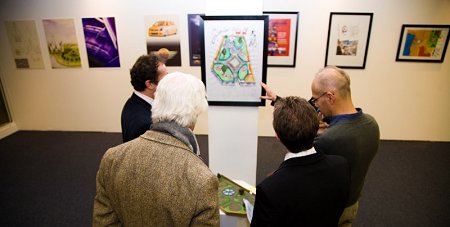 What Swindon could become?:
the exhibition of Swindon College students' ideas,
now on show at the Brunel Centre
"We gave the students the freedom to think about what is missing from the Swindon landscape had already thrown up some interesting themes," commented school of art team leader Louise Brooke.
The winner on day was Mitchell Nelson, for his Diamond Arena design. who won a £100 shopping voucher.
Josh Fitzwilliams came second for his Swindon Arts and Culture Centre design, winning £75 and Amy Johnson took third, for her Robins Nest design winning £50
'Vision For Swindon' picture gallery

Students from Swindon College show their ideas for Swindon's future - 05/02/2009
Gain a new skill!
Affected by Redundancy? Go to Swindon College's 'Futures Fair'...

18 February 2009