Date added: 06 February 2009
Swindon: Latest pics 06 Feb
Pictures from the worst of the weather so far
Town's home against Southend has been postponed due to a frozen pitch
The cry for help has been made by Swindon Town Football Club, as they try desperately to clear the snow from the pitch ahead of their League One clash against Southend tomorrow.
Town staff and fans - with shovels in hands - have tried to clear the excess snow
before the pitch inspection on Saturday morning at 8.30am.
Preparations are set to continue throughout the night and early tomorrow morning if anyone if free to give a hand.
The County Ground: 3.30pm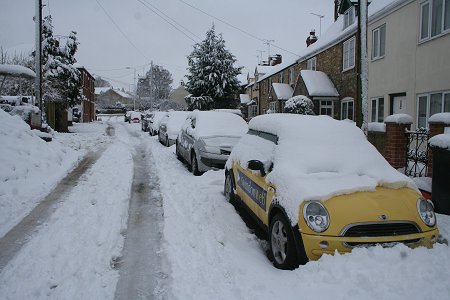 And, guess what. We're snowbound in Highworth!
Greenmeadow and Cheney Manor: 9:22am

Swindon Town Football Club - 06/02/2009

Old Town and Swindon Town Centre - 06/02/2009

Highworth Snow pictures - 06/02/2009

Snow in Greenmeadow - 06/02/2009

Snow in Swindon - 09/02/2009
Snowtime Swindon '09
School closure info, latest pics, videos, travel links - find it here...

10 February 2009

The worst so far?
It's snow joke on Swindon's roads tonight - latest pics...

09 February 2009

Ski Sunday
The Swiss alps? France, perhaps? No! This is Swindon!...

Swindon Snowtime III
Roads all clear so far but Swindon trains affected - police give warning...

02 February 2009

Frozen Over!
Cold snap means dancing on ice for Stanton swans...

03 January 2009