Date added: 09 February 2009
Education in the spotlight
Government ministers praise Swindon schools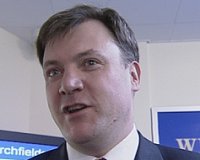 Education Secretary Ed Balls
Education instead of the economy was in the spotlight with the visit of cabinet minister Ed Balls to Swindon today.
The Secretary of State for Children, School and Families visited Drove Road School and Churchfields School in town, where he spent time discussing government policy with teachers and meeting pupils.
SwindonWebTV caught up with the minister inside Churchfield School, where we quizzed him on the recent decision to not allow the first Islamic faith school in Swindon to be built.

But the minister declared it "fine by me. It has got to be decided locally." (see interview)
Coincidently, Swindon College also received an official visit from Further Education minister Siôn Simon, who praised the College's new Diploma Building aimed at training 14-19 year-olds planning a career in engineering and construction.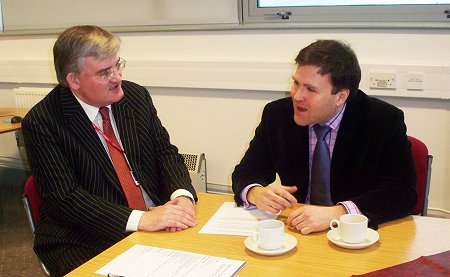 Further Education minister Siôn Simon (l) with Principal Nick Letchet
Recognition all round
Swindon College host UK Plumbing Apprentice of the Year 2009 Regional Competition...

20 February 2009

Gain a new skill!
Affected by Redundancy? Go to Swindon College's 'Futures Fair'...

18 February 2009