Date added: 10 February 2009
Having their say
Groups petition Swindon Council ahead of budget meeting
Campaigners made their voice heard at Swindon Borough Council today ahead of a crucial cabinet budget meeting tomorrow.
Groups representing Swindon Dance and SPARK (Save Park And Ride Kampaign) handed petitions to Swindon mayor Steve Wakefield, in protest at proposed cuts in funding.

Under plans to be discussed, North Swindon's park and ride at Groundwell could be mothballed, saving the Council £330,000. And Swindon Dance will lose £45,000 worth of funding they describe as 'essential'.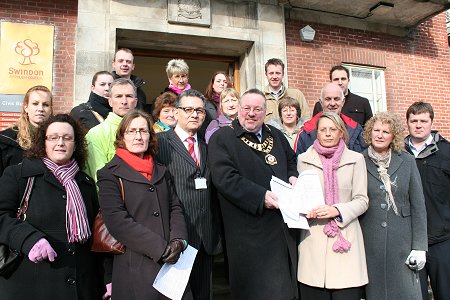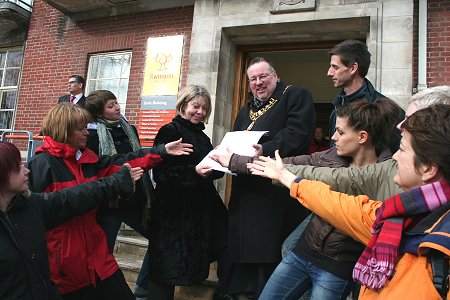 "We just want to get across how important the Groundwell Park and Ride is to the people who use it," said Sara Spinx of SPARK, who handed over a petition containing 1,000 signatures.
"We all realise budgets are tight at the moment but cutting the service completely is not the right move. We propose a reduced service."
"Swindon Dance is a cultural success in Swindon, and we need Council funding to cover our core costs," said Marie McCluskey, Director of Swindon Dance.
Earlier in the day, representatives from the group trying to save Old Town library from closure also presented a petition.
The Council are currently battling a £3.2 million pound hole in funding but a spokesman said "nothing has been decided".