Date added: 13 February 2009
TA' very much
Swindon TA centre welcomes new tanks for training
Two armoured fighting vehicles (AFV) used for reconnaissance and troop support in Afghanistan rolled into Swindon this week.
Tanks that will now be used by the local TA Squadron at their specialist training centre near Faringdon Park.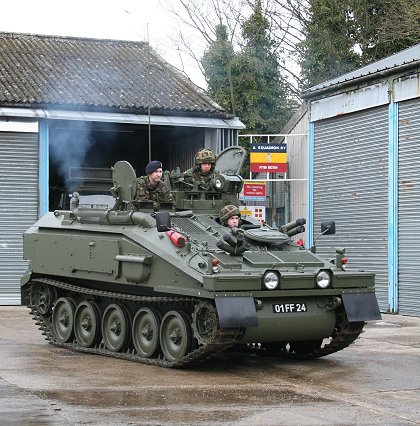 Two CVR(T) Spartan armoured vehicles are
now being used by the Swindon Territorial Army
New recruits of A Squadron of The Royal Yeomanry will now spend time using the CVR(T) Spartan armoured vehicles on exercises learning how to drive and maintain them.
"It's been 10 years since we last saw armour here at the TA in Swindon, and they're going to play a big part in our forthcoming training," said second lieutenant George Arkell, troop leader of A Squadron.
"Using them will really help prepare the troop for possible deployment alongside our colleagues in the regular army."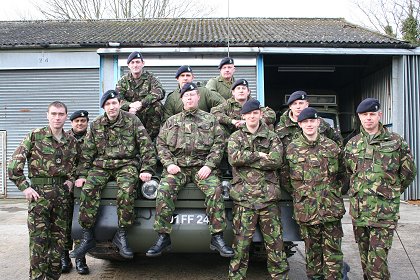 A squadron of the Royal Yeomanry
Two members of the squadron are already serving in Afghanistan using these vehicles on a daily basis.
This training forms part of A Sqn new role within the army as formation reconnaissance and CBRN, supporting the regular army on front-line duties in Afghanistan.
With this new role the squadron have been authorised to increase their numbers and with the appointment of a new recruiting officer they are opening their doors to new potential solders.
Full details on joining the TA in Swindon, who meet every Wednesday between 7:30 and 9:30pm, are available via the link below.

Tanks in Swindon - 13/02/2009
Armed Forces Day 2011
Military parade, veteran's badge ceremony plus a full day of family entertainment - SEE OUR VIDEO AND GALLERY...