Date added: 15 February 2009
Melinda survives again!
Skate-off success number three for Swindon star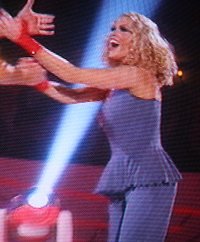 Swindon's Melinda Messenger
Swindon's Melinda Messenger held her nerve - and her poise - to skate in to week seven of ITV's Dancing on Ice tonight - but only after being saved by the judges once again.
The 37-year-old model and tv presenter this time eliminated former rugby league star Ellery Hanley, after both failed to secure enough public votes to avoid the dreaded skate-off.
But a polished re-run of her routine to Nina's 99 Red Balloons - and a fall by Hanley - saw her through after the judges voted four-to-one in her favour.
Earlier on, Melinda scored 17.5 with her original performance, encouraging Robin Cousins to comment:
"What you do in the air is beautiful and among the best of the women skaters. But on the ice you can be scratchy and stiff."
Fellow celebrity Ray Quinn scored a perfect 30.0 - the first of the series - and is now the overwhelming favourite to win.