Date added: 20 February 2009
Recognition all round
Swindon College host UK Plumbing Apprentice of the Year 2009 Regional Competition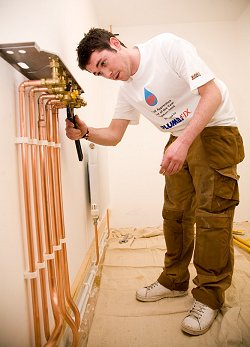 Just one of the plumbing apprentice
working on his task at the UK
Plumbing Apprentice of the year
2009 Reginal Competition
There was recognition all round yesterday at Swindon College as they hosted the UK Plumbing Apprentice of the Year 2009 Regional Competition.
This National Competition is sponsored by Plumbfix in association with the Chartered Institute of Plumbing Heating Engineering (CIPHE), and has been set-up to reward the best performing young plumbers in the UK and encourage skill development in the plumbing sector.

The task set to the apprentice plumbers was to pipe up a combi jig to a radiator and were given 4 hours to do it in.
The overall winner was William Luke Davies from Swansea College, who will now go through to the final at Newbury Racecourse, and runners-up were Lee Page from Swindon College and Adam Evans from City of Bath College.

"The competition tested Level 2 Plumbing NVQ apprentices on core practical elements of their course," commented Steve Griffin, Plumbing lecturer at Swindon College.

"We also invited local manufacturers along to conduct product demonstrations on the day. It's all very exciting!"
Swindon College Plumbing Apprentice of the Year 2009 Regional Competition Picture Gallery


Swindon College host UK Plumbing Apprentice of the Year 2009 Regional Competition - 23/02/2009
Gain a new skill!
Affected by Redundancy? Go to Swindon College's 'Futures Fair'...

18 February 2009