Date added: 27 February 2009
Swindon pubs back to their best
Duke of Wellington and Running Horse buck the trend
The pub trade may be suffering in many areas, but at two locations in Swindon the Great British pub is most definitely alive and well!
The Duke of Wellington on Eastcott Hill – Swindon's smallest public house has undergone a complete refurbishment and new landlady Amber Read is delighted with the customer response.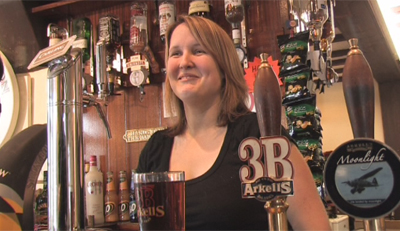 Landlady of The Duke of Wellington Amber Read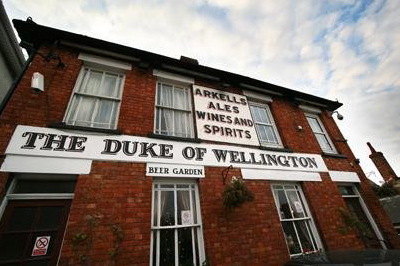 "Trade is up, and everyone has remarked how The Duke seems to be back to its best," she told us.
"We're a real traditional pub here who rely on our regular customers and we don't do food.
"So to be busy so soon is a great way to start."
The pub, which Arkell's have owned since 1869, is currently being extended to increase capacity including a new garden decking area ready for the summer.
The pub even has a dog called The Duke, who has already become a firm favourite with regulars and new vistors.
"Everyone seems to love him," Amber added, "he's proving a real added attraction which all helps!"
And The Duke of Wellington is not alone in bucking the trend.
The Running Horse, another of Swindon's oldest pubs, across town on Wootton Bassett road, is also experiencing a renaissance after a similar re-fit by owners Arkell's just before Christmas.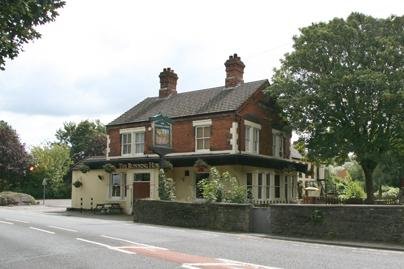 The Running Horse on Wootton Bassett Road
"It's been truly amazing," said new landlord Lenny Wallace, when we asked him about the pub's re-opening.
"The people of nearby Rushy Platt seemed to have really adopted us as their local, and I think that's a big part of the atmosphere of the pub.
"It already feels like we've been like this for years rather then just a few weeks, and at weekends it is literally packed in here with people enjoying themselves - which is what a good pub is meant to be all about."
Bought by Arkell's in 1883, The Running Horse has only been recently taken back under their control after a 20 year lease agreement with Beefeater.
The pub is named after the caroussel horses that featured at the circus which reguarly visited the site opposite the pub on Wootton Bassett road.