Date added: 10 March 2009
Singing surgeon honours the Hammerman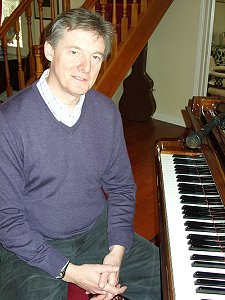 The life of Swindon's 'Hammerman Poet' is the subject of a new CD by the man they call the Singing Surgeon.
John Cullimore, a consultant obstetrician at the Great Western Hospital in Swindon, has released The Hammerman, which traces the extraordinary life of poet and writer Alfred Williams, who was born in South Marston in 1877.
"I had never heard of Alfred Williams until I read about him on SwindonWeb," said John, who is originally from Liverpool but now lives in Wanborough, "but I have become fascinated by his work and his life.
"I wrote the CD to help keep his memory alive and help him to reach a wider audience."
Williams worked in the stamping shop of Swindon Works for 23 years and published a book called Life in a Railway Factory in 1915.
Although the book was attacked by the Great Western Railway, who didn't like its warts-and-all approach to recording conditions 'inside', it has become one of the most important records of Swindon's railway era.
But it is untypical of Williams's work. He became nationally famous as the Hammerman Poet, and is most fondly remembered for his charming books about the villages and people around South Marston, which he wrote about with great affection after visiting them on his bicycle.
'The Hammerman' by John Cullimore
Not only are Williams's works an important historical record of the times, but are also beautifully written and – even 79 years after his death – are easy reading.
He also compiled an anthology of local folk songs which he collected on his travels around north Wiltshire – and John's CD has an appropriately folkie feel to it that Williams would have appreciated.
"As well as being an excellent writer, Alfred led an amazing life, and I wanted the CD to reflect what an extraordinary man he was," said John, who was dubbed the Singing Surgeon for his charity work for the Baby Unit at GWH and fundraising for research into mesothelioma – the 'Swindon Disease'.
"He walked to the factory, worked long, hard hours and was often in poor health, but somehow found time to educate himself to a high standard, as well as research and write his books.
"He also did his bit for his country in the First World War, when he posted to India - and when he came home to South Marston, he and his wife Mary built a cottage with their bare hands."
John is currently talking to Steam about the museum hosting an event, later this year, which will be a performance of songs from the CD, combined with a narrative. A new website celebrating Williams's life and works will also be launched shortly.
In the meantime, John wants to make contact with other Williams fans.
He said: "I've already made contact with a few of his other admirers, but would love to hear from anybody else who has an interest in Alfred and his work, including anybody who would like to be involved with the event."