Date added: 15 March 2009
'A Walk in the Park'
Victorian dance film brings together Swindon's artistic talent
There was a collaboration of some of Swindon's top artistic talent in Queen's Park this weekend.
Locally-based dancers, make-up artists and filmmakers came together to turn the park into a dance film set for a short piece called 'A Walk in the Park'.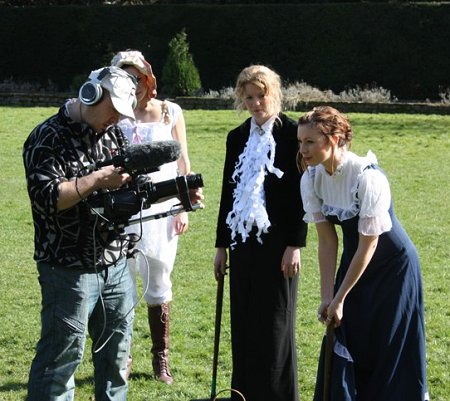 filming of 'A Walk in the Park' at Queen's Park
"A film which touches on the echoes of time and space," said director Jamie Bullock.
"We set up scenes featuring a Georgian tea party & Victorian croquet, and also views of life in the park on a close up scale, like the dance of a caterpillar and the silent but beautiful growth of a flower.
"It's all gone really well and the weather has been perfect."
"With costumes, hair and make-up designed and applied by Swindon Colleges Media Make-up students, dance and movement derived by Swindon-based Dance Company Swerve, and the film created by Funkton Films, this 'Alice in Wonderland' dance film promises to be a great collaboration of just some of Swindon's talented artists," Jamie added.
Tickets are now available to see this film along with live performances by Swerve at Swindon Dance on 01 and 02 May. The show starts at 7.45pm.

'A Walk Through The Park' Dance Film - 17/03/2009
Swindon Does Arts
New initiative aims to get everyone in Swindon actively engaged in arts activities...