Date added: 19 March 2009
Jamie's getting married
EXCLUSIVE:

Swindon jazz star to wed Sophie Dahl
After two years of going out - including the odd footy match at Swindon Town FC - Jamie Cullum has finally popped the question to long-term girlfriend Sophie Dahl, SwindonWeb understands.
Although no date has been set, the pair are said to be 'thrilled' at getting engaged and 'more madly in love than ever'.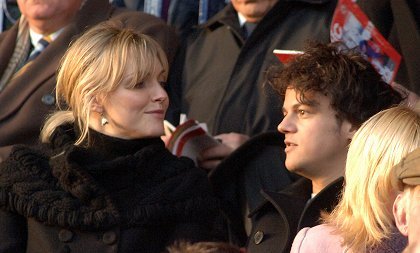 Jamie Cullum and Sophie Dahl, seen here watching Swindon Town
at the County Ground in December 2007
Quite when the Swindon jazz sensation will find a gap in his increasingly busy schedule, no one is sure. He most recently collaborated with Clint Eastwood on the theme tune for the hit film Grand Torino, as well as headlining concerts throughout the world.
Ms Dahl, a former super model, has also found success as author, following in the footsteps of her famous grandfather, Roald Dahl.
Win A Signed Album
We've an autographed copy of Jamie Cullum's latest to give away...

21 November 2009